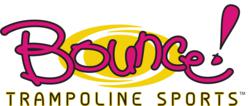 Bounce! Trampoline Sports provides healthy exercise classes and unique lifestyle workshops and programs for teens and adults unmatched by any other fitness facility in the tri-state area.
Rockland County and Bergen County (NY and NJ) (PRWEB) February 28, 2013
Bounce! Trampoline Sports, an enormous indoor trampoline park located in Valley Cottage, New York, has developed a Have Fun Get Fit program for teens that has proven successful in helping kids eat healthier, exercise more and lose weight. In an effort to increase awareness of various health issues, they are offering a series of free healthy living workshops for anyone to attend and will kick off a Get Fit For Summer Weight Loss Challenge on March 19th.
Thursday, March 7, 6:30pm - 7:30PM
Treating and Reversing Type 2 Diabetes with Dr. Michael Cocilovo
More than 20 million Americans have been diagnosed with Diabetes, 79 million more have received a pre-diagnosis and 10 million are undiagnosed according to the American Diabetes Association. It is a rampant epidemic that can be treated simply and even reversed. Learning simple lifestyles changes can help you avoid getting diabetes. During the workshop attendees will learn:
1) What is type 2 diabetes?
2) How does it develop?
3) How can it be prevented?
4) Can it be reversed?
5) What foods and supplements can help keep it under control?
Come hear the facts that much of the medical establishment doesn't want to tell you.
Tuesday, March 19, 6:00pm - 7:00pm
Introducing the Bounce! Get Fit For Summer Challenge!
Bouncing on a trampoline can burn up to 1000 calories per hour, combine that with a proven weight loss cleanse and a healthy diet and you've got the Bounce! Get Fit For Summer Challenge. Learn how you can participate by attending this free informational session with Victor Byrne, Head Trainer at Bounce!, who will review how trampoline aerobics is a good all around body workout and what unique exercises can be done on a trampoline, then learn how combining fat burning exercises with a diet program that reduces the toxins in your body so you can increase your metabolism leads to a healthier you by summer. Those who want to sign up for the Challenge will be provided additional information at the session and actual aerobics classes will begin April 1st and run through the end of May. The winner of the two month challenge will receive round trip transportation (courtesy of KLS Transportation) and tickets to the Westchester Dinner Theatre. Additional prizes will be announced in the coming weeks. To attend this free session send an email to bouncetrampolinesports@gmail.com to reserve a spot.
Thursday, March 21, 6:30pm – 7:30PM
Learn How to De-stress Throughout Your Day with Dr. Gil Rodriguez
Stress affects nearly everyone during the day whether you work in an office, work from home or are a caretaker. Learning simple techniques to implement when you feel stress coming on or when you really need a break, can help you deal with anxiety better and get through your day more easily. Dr. Rodriguez will explain how stress affects the body and what you can do about it.
Additional workshops will be posted on the company's website in the coming weeks at http://www.bounceonit.com .
Dr. Michael Cocilovo has been practicing chiropractic in Rockland County for over 25 years and is the Director of New City Chiropractic Center. A Certified Sports Team Physician, Dr. Cocilovo is also one of a select group of chiropractors who is certified to perform Manipulation Under Anesthesia (MUA). He is a long-time member of the New York State Chiropractic Association and is Past President of the Rockland County Chapter of the American Chiropractic Association. He chose chiropractic because of its holistic approach to patient wellness.
Dr. Rodriguez is board certified in Chiropractic and Physiotherapy by the National Board of Chiropractic Examiners. He is a current member of the Am0erican Chiropractic Association, as well as of the New York State Chiropractic Association.
Participants will have an opportunity to ask questions during the workshops. There is no charge and they are open to teens as well as adults. For more information visit http://www.bounceonit.com or call 845-268-4000. The next Have Fun Get Fit class for teens will kick off in April. Applications are available on the Bounce! website at http://www.bounceonit.com.
Bounce! Trampoline Sports is an enormous indoor trampoline park offering all ages the opportunity to play sports, have fun and get fit on enormous courts of interconnected trampolines. They offer aerobics and acrobat classes, Bounce! Boot Camp, pick up dodgeball games and league play, slam dunk basketball, and gymnastics and acrobat training as well as special classes for toddlers. Bounce! will open a second location in Syosset, New York in the Spring. For more details visit their website at http://www.bounceonit.com. Bounce! Trampoline Sports is located at 612 Corporate Way in Valley Cottage off Route 303, just two miles north of the Palisades Center Mall. For questions call 845-268-4000.
# # #