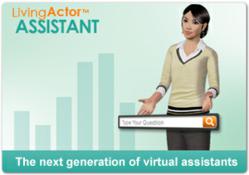 Living Actor™ Assistant increases customer conversion rates while reducing service costs through the use of conversational virtual assistants
Orlando, FL (PRWEB) November 02, 2012
Cantoche, a company that develops and distributes avatar SaaS products, announced today the release of Living Actor™ Assistant, the first online intuitive, cost-effective tool that authors interactive talking via animated avatars. These avatars can instantaneously answer questions for small and middle size businesses at any time of day, any day of the week.
"Living Actor™ Assistant offers the next generation of virtual assistants to help companies build a loyal customer base," stated Benoit Morel, Cantoche CEO. "Living Actor™ Assistant increases customer conversion rates while reducing service costs through the use of conversational virtual assistants."
Living Actor™ Assistant allows companies to create and publish their own intelligent 3D personalized assistant in just a few minutes. Living Actor™ technology automatically indexes the knowledge base content and converts it in natural conversational speech and behaviors. The program's analytics allow companies to monitor, evaluate, and modify the assistant's interactions and interface at any time. "In only a few weeks time, we have acquired clients in the USA and Europe," stated Morel. "This program isn't limited to small businesses. Larger companies are starting to use our solutions recognizing the cost effectiveness compared to other products."
How does it work? Living Actor™ Assistant allows the client to engage in a natural dialog with a 3D talking avatar who answers questions in an FAQ and natural language search assistance style. The avatar recognizes appropriately synchronized behaviors and voice while using a white board to display rich media content, guiding clients to specific actions. Living Actor™ Assistant makes suggestions to their clients encouraging them to explore content more deeply. Companies may subscribe to an "all in one" affordable monthly service by signing up at http://www.livingactor.com/assistant. They may also sign up for a free trial.
About Cantoche
Cantoche is an avatar software company based in Orlando, Florida and Paris, France. Cantoche provides avatar SaaS products, enabling companies to quickly and easily create high-quality virtual assistants or presenters for their web and mobile applications. Cantoche has served more than 300 large companies and thousands of small companies and universities all over the world. http://www.cantoche.com