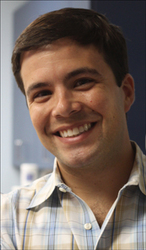 "As VP, I'll continue to help guide our company to our twin goals of having passionate customers that rave about us and to become the magnet for top talent."
Austin, TX (PRWEB) February 16, 2011
Living Direct, Inc. has announced the promotion of Peter Keller to Vice President, making him an executive of the leading ecommerce enterprise focused on niche markets. Formerly the Director of Product Development for Living Direct, Keller will continue to be heavily involved in product sourcing but has now been given additional business development and senior leadership duties.
Keller joined the company in 2001 as an intern. During his 10 year career with the company, Keller has also served as a Sales Representative, Marketing Analyst and Webmaster for Living Direct. For the past 5 years, Keller had been the Director of Product Development where he is credited with establishing their private label appliance brands, EdgeStar and Koldfront. Keller also coordinates the stateside product sourcing while managing a team of eight product buyers and assistants.
"Over the past 10 years, Peter has proven himself as a leader in every role while consistently delivering exceptional results for our company," said Rick Lundbom, CEO of Living Direct. "We recognize him as a vital asset to the organization. This promotion demonstrates that, while also providing Peter more opportunities to guide our future success."
Keller first began working with Living Direct while pursuing his undergraduate degree at The University of Texas at Austin. In 2002, he completed his Bachelor of Science in Radio, Television & Film. Keller later returned to UT and earned his MBA in 2007.
"I am pleased to continue my professional growth with Living Direct. As VP, I'll continue to help guide our company to our twin goals of having passionate customers that rave about us and to become the magnet for top talent," said Keller.
This promotion comes at a time when Living Direct is poised for continued growth. In 2010, Living Direct posted annual revenue increases of 30%. And in January of 2011, the company relocated their corporate headquarters to a new, larger office building in the Westlake hills area of Austin, TX. The interior space was completely remodeled and furnished to accommodate the needs of the increasing personnel and reflect the emerging company personality.
About Living Direct:
Living Direct was founded in 1999 by Rick Lundbom as Richlund Ventures. The company has since grown into a multi-million dollar ecommerce enterprise consistently ranked in the Internet Retailer Top 500 Guide of America's largest e-retailers, as well as a respected member of the Better Business Bureau.
Along with LivingDirect.com, Living Direct owns and operates CompactAppliance.com, PortableAirShop.com, Kegerator.com, SimplyDehumidifiers.com, WineCoolerDirect.com, IceMakerDirect.com and HotWaterSource.com. Living Direct's network of sites focuses on niche markets in consumer appliances, indoor air quality products, and lawn and garden furniture. The company also designs and manufactures two product brands, EdgeStar and KoldFront, which are designed for portability and innovative use of small spaces.
For more information, please visit LivingDirect.com.
###