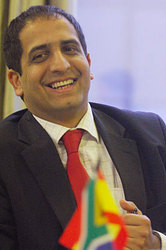 We in Cape Town are seeking new ways to provide venture finance in Africa, unlocking the potential of millions of entrepreneurs seeking to provide solutions to the continent's 1 billion people.
(PRWEB) January 17, 2011
Cape Town and Living Labs Global announce the award which seeks to revolutionize the way financing is provided to African entrepreneurs. The Award seeks solutions that exploit new technologies and funding systems such as crowdfunding, micro-credits, community finance, social networks and open data systems to provide entirely new ways of connecting investors and entrepreneurs in ways that are more suitable to Africa's entrepreneurs than traditional venture capital funds. Successful solutions would help African entrepreneurs become the employers of tomorrow, develop new technologies, provide real solutions to consumers and give investors healthy returns.
Cape Town invites global companies, research centers and NGOs to submit their solutions for the Award by the 28th of February, which will be reviewed by an international jury as part of the Living Labs Global Award 2011 in which 8 global cities present challenges. The winner will be invited to pilot the solution in Cape Town, with full support by all local stakeholders to evaluate the solution before a full-scale roll-out.
Cape Town has many developmental challenges that are shared across the continent. Urbanisation, provision of housing, income disparity between rich and poor, provision of a comprehensive and integrated public transport system are just a few of the many challenges Cape Town is addressing. It is embarking on entrepreneurial and innovative approaches to solve these problems. Such an entrepreneurial eco-system requires a sufficient supply of capital for emerging entrepreneurs, during the start-up phase as well as in growth phases in the business lifecycle. One of the key enablers for entrepreneurship to foster is the availability of venture capital funding for start-up and growth businesses.
Hence, Cape Town is inviting solutions to establish a Venture Capital Fund geared towards Africa's entrepreneurs who produce inspirational and virtually untapped innovation to solve indigenous challenges that are scalable.
"We are seeking new ways to understand how venture finance can be supplied and managed in Africa, combining some of the existing and proven best practices with new solutions that may have emerged in the developed or developing world. As an example, crowdfunding, micro-lending and community fund-raising are all powered by new technologies and financial management. Where in developed countries you may have two investors, African entrepreneurs may find a hundred willing micro-investors, in their family, community or beyond", says Mansoor Mohamed, Chief Executive of Cape Town's Economic-, Social Development and Tourism Agency.
Cape Town is famous for its natural beauty and is a popular tourist destination. It has been named Africa's Best Destination for three consecutive years in 2008, 2009 and 2010 by the "Oscars" of the travel industry, World Travel Awards. It has also won the 2009 Virgin Responsible Tourism Award: Best Destination. More recently, the City of Cape Town adopted a strategy to position Cape Town as a leading hub for entrepreneurship on the African continent. It is busy establishing an entrepreneurial eco-system in which the various role players in Cape Town's economy will be working together to create a more enabling environment for entrepreneurship to foster.
Why Cape Town?
With the well-established institutional frameworks of South-Africa and Cape Town, the city is an ideal piloting area for such new mechanisms by providing stable and proven legal institutions, committed government agencies, a high density of entrepreneurial activity and potential investors of all types.
About the Living Labs Global Award 2011
Living Labs Global, a non-profit association to promote digital service innovation in cities, announces a joint Award with the Cities of Barcelona, Cape Town, Eindhoven, Lagos, San Francisco, Sant Cugat, Stockholm, and Taipei to choose the companies and organizations that have developed solutions that add high value to users in cities around the world.
# # #