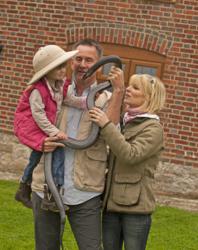 In these tough economic times most of us cannot afford to travel far afield, Livingstone Cottage offers a real safari adventure, like no other, right here in the UK
Kent, United Kingdom (PRWEB UK) 9 May 2012
Nigel Marven got a sneak preview of the stylish Livingstone Cottage near Ashford when he stayed with his family this week.
During his stay at the unique rural retreat, Nigel came face to face with some of the wild animal park's residents including an Eastern indigo snake, the entire meerkat clan, belted ruffed lemurs and a herd of giraffe.
Watch his video to see what he got up to.
Nigel said: 'I love an adventure, particularly where there is wildlife involved, so what better way to spend my vacation than at Port Lympne Wild Animal Park's new Livingstone Cottage experience? With views overlooking an African savannah and animals including giraffe, zebra and rhino as my neighbours, I felt right at home. The gorgeous cottage has all the creature comforts anyone could want and the authentic African food, cooked by Christo was one of the best meals I've ever eaten – definitely in my top five. It's been one of my favourite adventures yet!'
Livingstone Cottage offers views over 100 acres of Kentish savannah where animals including giraffe, black rhino, ostrich, wildebeest and zebra can be seen, roaming freely as if on the plains of Africa.
The experience includes a dusk safari with one of the parks expert rangers, who will give visitors a unique insight into the conservation work of The Aspinall Foundation, as they introduce many of Port Lympne's endangered animals.
'In these tough economic times most of us cannot afford to travel far afield, Livingstone Cottage offers a real safari adventure, like no other, right here in the UK that everyone can experience.' Added Nigel.
For further information and to book a unique African experience in Kent visit
http://www.aspinallfoundation.org/short-breaks/livingstone-cottage/nigel-marvens-stay
Editor's Notes
The Aspinall Foundation's Port Lympne and Howletts Wild Animal Parks in Kent were set up by the late John Aspinall to be centres of excellence for animal husbandry within which to protect and breed threatened species, with a view to returning them to the wild wherever possible.
The Aspinall Foundation is a world leading conservation charity dedicated to keeping John Aspinall's innovative conservation ethos alive leading the way through education, captive breeding and reintroduction. The Aspinall Foundation has projects both in the UK and overseas, including Java, Madagascar, Congo and The Gabon. Working in conjunction with the parks, The Aspinall Foundation has so far returned to the wild Przewalski's horses, black rhino, Cape buffalo, Burmese pythons and western lowland gorillas.