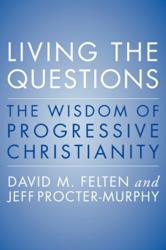 Rather than watch the church pass into the irrelevance of so many religions of the past, Felten and Procter-Murphy aim to fulfill people's longing for meaning by encouraging them to "live the questions" instead of "forcing the answers."
San Francisco, CA (PRWEB) August 08, 2012
In today's world, many churches ignore or avoid questions that address twenty-first century realities; as a result, people are often dissatisfied with the core message, dogma, and practice of the Christian faith. But according to pastors David M. Felten and Jeff Procter-Murphy, there is more to Christianity than rigid rules and outdated theological constructs.
Now Felten and Procter-Murphy aim to re-evaluate the organizing myths of Christianity in their new book, Living the Questions: The Wisdom of Progressive Christianity (HarperOne; August 2012; Paperback; $17.99). Calling on the most provocative and authoritative voices in Christian scholarship today—Marcus Borg, Amy-Jill Levine, John Dominic Crossan, John Shelby Spong, Karen Armstrong, Brian McLaren, Diana Butler Bass, and many others—Living the Questions presents a lively and stimulating primer on what it means to be a progressive Christian.
Based on the hit DVD series by the same name, Living the Questions covers twenty-one topics many churches are afraid to discuss—sexuality and homosexuality, other religions, the miracles and divinity of Jesus—and explains traditional topics of the faith in an all-new light—the Bible, the Trinity, salvation, the rapture, and much more.
Rather than watch the church pass into the irrelevance of so many religions of the past, Felten and Procter-Murphy aim to fulfill people's longing for meaning by encouraging them to "live the questions" instead of "forcing the answers."
ABOUT THE AUTHORS
Reverend David Felten was trained at Boston University School of Theology and Dr. Jeff Procter-Murphy at Claremont School of Theology. Together they have over forty years combined experience in local church ministry. David and Jeff continue to collaborate on sermons and new resources for Living the Questions, a DVD series and curriculum in use by nearly 5000 churches and other groups across the U.S., Canada, the UK, Australia and New Zealand in order to bring together, equip, and re-educate thinking Christians.
ADVANCE PRAISE FOR Living the Questions
"Among the most dynamic and talented clergy in the world, David Felten and Jeff Procter-Murphy speak with high levels of credibility to the deep and abiding human hunger that yearns for a Christian future."
— John Shelby Spong, author of Re-Claiming the Bible for a Non-Religious World
"A welcome book that is bold (without being contentious) and courageous (without needing to be triumphant), Felten and Procter-Murphy give voice to a faith that provides a profound alternative to the dominant ideology of 'American Christianity.' Attention should be paid!"
— Walter Brueggemann, professor emeritus, Columbia Theological Seminary
"A rich, wise, helpful and important book—virtually a manifesto of progressive Christianity."
— Marcus Borg, author of Evolution of the Word
"'You can't be a Christian if you believe in evolution. You can't be a Christian if you accept women as leaders, or gay people as equals, or other religions as having value. You can't be a Christian unless you are a literalist, an inerrantist, and a social and theological conservative.' Or so say a lot of self-appointed gatekeepers out there. That's why I'm so grateful for Living the Questions. As you'll see in this book, there are other voices who offer less rigid and more expansive approaches to Christian faith. These progressive voices make room for people who practice critical thinking and question the gatekeepers. In fact, they help us see that questioning the gatekeepers is exactly what Jesus was all about."
—Brian McLaren, author of A New Kind of Christianity
LIVING THE QUESTIONS
The Wisdom of Progressive Christianity
By David Felten and Jeff Procter-Murphy
HarperOne, an imprint of HarperCollinsPublishers
August 2012 | Original Trade Paperback |$17.99 | ISBN: 9780062109361
# # #