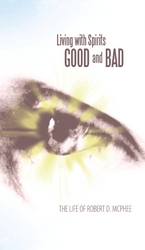 Charlotte, NC (Vocus) November 3, 2010
While many people are raised in a church or religious institution, many others find their spiritual path later in life. Living with Spirits Good and Bad (published by WestBow) by Robert D. McPhee is the autobiography of a man who in his later years embarked on a search for the meaning of life. After delving deeper into this journey he came to realize how certain spirits had guided and affected him on his journey. While considering his life story, he began to see a definite pattern. So many times, occurrences seemed to have been inspired by a greater spirit.
While the story of McPhee's life appeared normal in the general sense, countless times he also embarked on missions where the situations and outcomes were questionable. He learned lessons the hard way through dangerous and close encounters where he was ultimately saved by mysterious help from the outside—or perhaps from above.
Entering this world in a time before radio, when the newest automobile was a Model T Ford, McPhee journeyed throughout the Eastern U.S. and Canada in a haphazard fashion, oblivious to his spiritual side, until finally realizing that he had been saved repeatedly in order to share his truth—that the spiritual body, however ignored—is a part of every person. Through study, meditation, and prayer, McPhee has concluded that that people speak to God with their conscious mind, and God talks to people through their subconscious mind. Says McPhee:
God… has a desire for me to explain to the public about the existence of the spiritual body that is a part of every living human being. This spiritual body is an exact duplicate of the physical body. This body is attached by a silver cord (referred to in the Bible) and communication is possible between the two. The spiritual body is also the housing of the subconscious mind, which also is the soul. The spiritual body lives on after the physical body becomes deceased.
McPhee shares his life before acknowledging the spirit, his process of entering a spiritual life, and the impact made in his life in order to give others insight into their own spiritual lives, and an ultimate sense of freedom and peace.
# # #