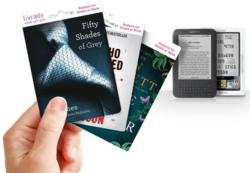 "When you want to give someone a book, you want to give them a specific book … something you've chosen just for them," said Leonard Chen, co-founder and Chief Executive Officer of Livrada. "Livrada makes e-book gifting personal."
Monrovia, CA (PRWEB) July 12, 2012
Starting Sunday (July 15th), Livrada e-book gift cards featuring such best-selling novels as "Fifty Shades of Grey", "The Girl who Kicked the Hornet's Nest", "Gone Girl" and "State of Wonder," published by Random House, Inc. and HarperCollins Publishers will be available for purchase in all 1,771 Target stores nationwide. Livrada, Inc., a technology start-up based in Southern California, is introducing a new product -- title-specific e-book gift cards – marking the first time e-books from major publishers will be marketed and sold in major US retail stores.
Livrada e-book gift cards fill the gap between the digital and "brick and mortar" worlds, giving publishers and authors a major new distribution channel and enabling them to merchandise e-books at retail. The cards also restore to readers the experience of browsing and discovering books - e-books in this case - at retail. Each card is associated with a specific book title and designed to be visually appealing, featuring the book's original cover art and description.
Livrada has designed a seamless redemption experience; gift recipients simply visit http://www.livrada.com to redeem their PIN code, which allows them to download an e-book directly onto their Kindle or NOOK e-reader.
"When you want to give someone a book, you want to give them a specific book … something you've chosen just for them," said Leonard Chen, co-founder and Chief Executive Officer of Livrada. "Livrada makes e-book gifting personal."
For the July 15th launch in all Target stores, Random House, Inc. has made five of their current biggest-selling fiction titles available with Livrada: the phenomenon, Fifty Shades of Grey, by E L James; The Girl Who Kicked the Hornet's Nest by Stieg Larsson; 44 Charles Street by Danielle Steel; Odd Thomas by Dean Koontz, and Gone Girl by Gillian Flynn, which has just become a #1 bestseller.
HarperCollins has chosen to offer an e-book gift card for State of Wonder, by Ann Patchett, the award-winning author of Bel Canto. "We're excited to be partnering with Livrada on this program to extend our digital content to readers in new ways," said Chantal Restivo-Alessi, CDO, HarperCollins Publishers. "We're looking for new ways of facilitating gifting of ebooks and we look forward to seeing how this new service can extend our reach to a wider range of consumers."
Livrada will continue to expand its publishing and retail partnerships; the company will add support for additional e-reader platforms by the end of 2012.
About Livrada:
Livrada, Inc., http://www.livrada.com, has developed an innovative new product to make e-book gifting more personal. Livrada e-book gift cards are title-specific (and truly beautiful) gift cards that work with multiple e-reader systems (Kindle and NOOK at launch). Based in Southern California, Livrada was formed by an experienced team of entrepreneurs and executives with deep business and technology backgrounds in the digital media, wireless, pre-paid, payments, and e-commerce industries. Livrada partners closely with publishers, retailers, and e-book platforms to create value for readers and the entire industry.
.
About HarperCollins Publishers
HarperCollins, one of the largest English-language publishers in the world, is a subsidiary of News Corporation (NASDAQ: NWS, NWSA; ASX: NWS, NWSLV). Headquartered in New York, HarperCollins has publishing groups around the world including the HarperCollins General Books Group, HarperCollins Children's Books Group, Zondervan, HarperCollins UK, HarperCollins Canada, HarperCollins Australia/New Zealand and HarperCollins India. HarperCollins is a broad-based publisher with strengths in literary and commercial fiction, business books, children's books, cookbooks, mystery, romance, reference, religious and spiritual books. With nearly 200 years of history HarperCollins has published some of the world's foremost authors and has won numerous awards including the Nobel Prize, the Pulitzer Prize and National Book Award, the Newbery Medal and the Caldecott. Consistently at the forefront of innovation and technological advancement HarperCollins is the first publisher to digitize its content and create a global digital warehouse to protect the rights of its authors, meet consumer demand and generate additional business opportunities. You can visit HarperCollins Publishers on the Internet at http://www.harpercollins.com.