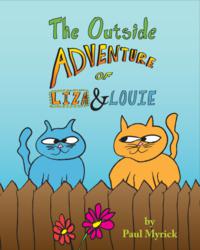 (PRWEB) September 01, 2011
Paul Myrick, author of "The Outside Adventure of Liza & Louie" offers pet care tips for this holiday weekend.
After a long summer, many of us look forward to leaving work and taking some well deserved time off. As many board planes, trains, and take to the roads in trailers and tents - our pets are left to spend the holiday weekend in someone else's care. This can be a very lonely and stressful time for these little ones.
To help minimize the stress, Paul Myrick, author of the popular children's book, "The Outside Adventure of Liza & Louie" which stresses the importance of proper pet identification and pet care for children offers some guidance.
"Many of our little friends get very sad during these holiday weekends. Along with special treats,some simple steps can be followed to ensure a happy and healthy vacation for both the pets and the owner, " stated Myrick as he offered the following tips:

Always take pictures of your pets, especially if more than one resides in the house, then print out the pictures and properly label. This helps the pet care provider to immediately put the name and the pet together. Additionally, for each picture, outline any critical information that is necessary for the pet such as feeding times and amounts, prescription dosages, veterinarian's phone number and any pet oddities. Be sure to save this information for re-use.
Be sure to contact your local veterinarian and provide the name of your pet care provider in the unlikely event your pet needs some care. Also, double check that the credit card on file is up to date and note any special holiday hours. It's best to combine this information with the pet pictures and feeding instructions left behind for your pet provider.
Next, place some well worn t-shirts to be located in pet sleeping beds or favorite spots. The scent reminds dogs and cats of its owner and helps soothes their little nerves.
As we all have experienced, once a pet gets lonely all types of trouble and mishaps occur. Romeo, my golden retriever chewed and managed to remove a whole door frame as he decided to tunnel his way from our foyer to the garage – so keep plenty of toys, cat nip, and chew bones around.
Lastly, be sure your pets are properly tagged. Our cats, Liza and Louie spend most of the day plotting their next escape hence the book, "The Outside Adventure of Liza & Louie!" So to avoid seeing your pet care provider frenzied and running around the neighborhood looking for your cat or dog, and to avoid any missing pet related cell phone calls, follow these three easy steps. First get your pets microchipped and registered at your local vet's office. Next, buy some inexpensive pet identification tags made at your local PetSmart that properly lists the pet's name, address, and phone number. Finally, with a permanent marker, put your cell phone number on the inside of the pet collar.
Again, a short get away or a long vacation can be a stressful time for your pets. Remember the old adage, "An ounce of prevention is worth a pound of cure" so to avoid a stressed out pet and owner, properly prepare and enjoy Labor Day 2011 - you deserve it.
The "Outside Adventure of Liza & Louie" is available on Amazon.com in paperback and Kindle. Kids can visit the cat duo at http://www.lizaandlouie.com for free coloring book or on Facebook.
About The Author
Paul Myrick is a Denver artist and author who grew up and resided most of his life in the deep south. Inheriting an innate artistic ability from his mother, southern rural artist Peggy Myrick Knight, Paul is naturally creative and expressive in several art forms including photography, watercolor and graphic design. Although Paul is a self-taught artist, he was mentored by Atlanta-based photographer Robin Davis, who teaches bi-annually at the Cortona Center of Photography in Italy. A previous career working in information technology provides Paul with a technical background that fits perfectly with today's digital art mediums. Paul's photography and graphic design work was chosen in 2008 by IBM and Ricoh to represent technological innovation in their US and international offices.
# # #