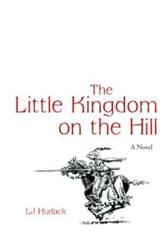 "Homeowner associations act as unregulated versions of municipal government that often evolve into petty dictatorships."
Murrieta, CA (PRWEB) May 10, 2013
"In communities throughout America, unregulated homeowner associations have the capacity to change your life," author LJ Hudack states. "Homeowner associations act as unregulated versions of municipal government that often evolve into petty dictatorships." In his new book, "The Little Kingdom on the Hill" (published by iUniverse), Hudack tells the story of Langston Bosworth, one of these would-be dictators, who has set his sights on elevating his power to the supreme level.
In a rural area of Franklin County, Calif., Bosworth and a group of sycophants have grown increasingly arrogant. Using money from homeowner associations, they promote a tribal culture that seeks out a common enemy whom they blame for all ills. With the help of unethical lawyers, Bosworth becomes ever more aggressive and increasingly dangerous. The membership bears the burden in silence and self-imposed ignorance until a small group manages to elect Randy Peterson to the board of directors.
Peterson's feisty refusal to bow down represents a new challenge to Bosworth. Then a tragic accident claims four lives and drives Randy to expose the true consequences of years of membership indifference. A murder leads to a secret board meeting and the glue begins to drip from the seams.
"The Little Kingdom on the Hill"
By LJ Hudack
Hardcover | 6 x 9 in | 268 pages | ISBN 9781475973174
Softcover | 6 x 9 in | 268 pages | ISBN 9781475973167
E-Book | 268 pages | ISBN 9781475973181
Available at Amazon and Barnes & Noble
About the Author
LJ Hudack lives in California. He has degrees from the University of California at Berkeley and Arizona State University, as well as a Ph.D. from the University of Southern California. His education, however, comes from experience. He persists in an unsupportable belief that there is a fundamental difference between right and wrong and between truth and bullshit. His quest to find evidence that law has some remote correlation with justice continues unrewarded. His other works include "The Albatross Journey" and "The Thirteenth Juror".