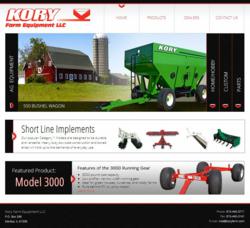 All of the employees at LKCS have been great to work with, They act as though they are a part of our company while working with us. Their crew has helped Kory Farm Equipment completely change
Peru, IL (PRWEB) October 22, 2012
LKCS (Peru, IL; http://www.lk-cs.com), a premier marketing agency, announces the launch of a new brand image for Kory Farm Equipment (Manlius, IL; http://www.koryfarm.com).
Kory Farm Equipment specializes in wagons, running gear and custom solutions for the agricultural industry, home user, hobby farms, manufacturing facilities and other commercial applications. The company recently introduced new and revamped product lines and was looking for a better to way showcase their solutions.
They selected LKCS to reinvent their brand and develop marketing materials, product brochures, product specification sheets, and a new web site at http://www.koryfarm.com.
"All of the employees at LKCS have been great to work with," says Chris Maynard, Kory Farm Equipment sales representative, "They act as though they are a part of our company while working with us. Their crew has helped Kory Farm Equipment completely change our image."
The new web site incorporates the newly designed branding standards and delivers Kory Farm Equipment's new image. The site organizes Kory Farm Equipment's product lines in target audience groups by segmenting their products into agricultural, home and hobby, and custom solutions. Once a site visitor accesses a product page, they are able to view the product specifications and view product photos in different colors and alternate views. Printable specification sheets are also available online for each product.
Amy Allen, Kory Farm Equipment inside sales representative states, "I was completely satisfied with our new web site designed by LKCS. Their expertise made a detailed and difficult process relatively painless for us! As we have been going through a multitude of changes and growth in our business, we had very little time devoted to the web site and LKCS was still able to launch the site in great time. Love the new site!"
To learn more about LKCS' marketing, branding, printing and web development capabilities please visit http://www.lk-cs.com.
About LKCS
Based in Peru, Illinois, LKCS is the area leader in providing end-to-end marketing, graphic design, commercial printing, direct mail, and web development services. Combined with over 50 years of marketing expertise, LKCS leverages the latest technologies and techniques to improve marketing results and return on investment for our clients. We do that. Additional information about LKCS can be found at http://www.lk-cs.com.