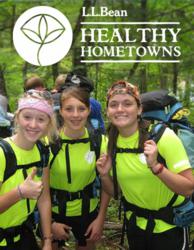 L.L.Bean is on a mission to get more children outdoors in our 100th Anniversary year and beyond.
Freeport, Maine (PRWEB) April 17, 2012
Today L.L.Bean is announcing a $1 million donation to Healthy Hometowns, a program designed to provide Maine children and families the opportunity to get outside and discover new outdoor activities.
The L.L.Bean Healthy Hometowns Program expands upon the winter program developed in northern Maine by the Maine Winter Sports Center into a year-round, state-wide effort. The Maine Winter Sports Center, an organization that has a demonstrated ability in making a difference in the lives of Maine's youth, is currently active in just over 100 communities in Maine. The nationally and internationally recognized program's emphasis has been on engaging communities with cross-country skiing. This donation will enable the organization to expand both the reach and the activity offering. The funds will be used to purchase year-round outdoor equipment, coordinate programming at the community level throughout the state, and hire staff to train local volunteers. As the program expands to more communities, the focus will encompass activities such as paddling, hiking, mountain biking, orienteering and camping.
The L.L.Bean Healthy Hometowns Program will launch in the communities of Freeport and Bangor, as well as expand in areas of western and northern Maine, such as Farmington and Presque Isle, where the program is already present.
"L.L.Bean is on a mission to get more children outdoors in our 100th Anniversary year and beyond, which is why we're excited to partner with Maine Winter Sports Center to support Healthy Hometowns," said Chris McCormick, L.L.Bean President and CEO. "We know through a survey we conducted with the National Park Foundation that kids – and their families – are spending less time in the outdoors than prior generations. Despite parents' appreciation of the benefits, 60% of parents say their kids spend less than an hour a day outdoors. Our founder Leon Leonwood Bean believed that spending time outdoors was fundamental to happiness in life. As we celebrate our centennial, we look forward to this partnership to help inspire the next generation of outdoor enthusiasts to live a healthy, active and happy lifestyle."
"On behalf of the Maine Winter Sports Center staff and hundreds of volunteers across the state, we are truly honored and humbled to be recognized by L.L.Bean," said Andy Shepard, President and CEO of the Maine Winter Sports Center. "Maine children are quickly losing touch with our rich outdoor heritage and this partnership will allow us to dramatically expand our mission of reconnecting our youth with that heritage. Learning to ski, perform a "J" stroke in a canoe, do a self-recovery in a kayak and fend for oneself in the Maine woods – these skills are not only important to understanding who we are as Mainer's, I believe they are also important to developing the self confidence required for success in life."
The announcement will be made in conjunction with free L.L.Bean Outdoor Discovery Schools® activities at its Flagship campus. Expert guides from L.L.Bean will be on hand from at 10:30 a.m. to noon, leading demonstrations and giving children and families the chance to learn about and try fly-casting, geocaching and archery. At 11:00 a.m. Seth Westcott will join the staff from Healthy Hometowns for a guided hike and scavenger hunt at Bradbury Mountain, Pownal, Maine.
For more information on ways to get your families outside this spring with L.L.Bean's Outdoor Discovery Schools, as well as ways to get involved in the company's 100th Anniversary initiatives visit http://www.llbean.com/100.
About L.L.Bean, Inc.
L.L.Bean, Inc. is a leading multichannel merchant of quality outdoor gear and apparel. Founded in 1912 by Leon Leonwood Bean, the company began as a one-room operation selling a single product, the Maine Hunting Shoe. While its business has grown over the past 100 years, L.L.Bean still upholds the values of its founder, including his dedication to quality, customer service and a love of the outdoors. L.L.Bean products are rigorously tested, guaranteed to last and always shipped free. Over the past 10 years, L.L.Bean has given nearly $26 million to local, state, regional and national conservation, human service, education and arts organizations. The 200,000 sq. ft. L.L.Bean retail store campus in Freeport, ME, is open 24 hours a day, 365 days a year and welcomes more than 3 million visitors every year. L.L.Bean can be found worldwide at http://www.llbean.com, Facebook, Twitter and YouTube.
About Healthy Hometowns
Since its inception in 1999 the Maine Winter Sports Center has been dedicated to creating a healthier, more active, outdoor lifestyle throughout Maine. Healthy Hometowns, the community development division of MWSC, meets this challenge by providing resources such as equipment, curriculum, and training to volunteers and professionals across the state. Internationally recognized as one of the top youth development programs in the world, Healthy Hometowns seeks to build the active, outdoor culture of Maine with an emphasis on accessibility, sustainability and quality. For more information regarding Healthy Hometowns visit http://www.mainewsc.org/healthy-hometowns.
###