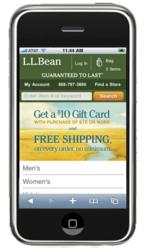 Offering L.L.Bean customers the convenience to shop the brand from their smartphones is one more way we can provide exceptional customer service
Freeport, ME (PRWEB) July 06, 2011
L.L.Bean, a trusted source for outdoor apparel, equipment and customer service for nearly 100 years, debuted its first optimized mobile commerce website, providing L.L.Bean customers the ability to shop and interact with the brand on the go.
The new L.L.Bean m-commerce site works with smartphones such as the iPhone, Blackberry and Android. Users are automatically redirected to L.L.Bean's mobile website when searching for llbean.com from a smartphone's web browser. Shoppers can search, browse, purchase and read product ratings and reviews from any Internet-enabled mobile phone. Key features of L.L.Bean's easy-to-use mobile shopping experience include: site search, store finder, L.L.Bean Visa Card coupon lookup, click to call customer service, ratings and reviews, e-mail sign up and complete product descriptions.
"Offering L.L.Bean customers the convenience to shop the brand from their smartphones is one more way we can provide exceptional customer service," said Steve Fuller, L.L.Bean's senior vice president and chief marketing officer. "We want to ensure L.L.Bean customers can shop with us however they chose and whenever they want whether that's through our catalogs, website, retail stores and now with mobile."
The site, built by mobile commerce technology provider Usablenet Inc., enhances the mobile experience through consistent cross-channel messaging emphasizing customer service, value and L.L.Bean's legendary 100 percent satisfaction guarantee policy.
In the coming weeks, L.L.Bean and Usablenet will launch a mobile commerce site for L.L.Bean's heritage brand L.L.Bean Signature. "We are continually evolving and improving our touch points with the customer," said Terry Sutton, L.L.Bean's Vice President of E-Commerce. "Mobile commerce is just the beginning. We'll continue to look for innovative ways to provide value and exceptional service to our customers."
About L.L.Bean, Inc.
L.L.Bean, Inc. is a leading multi-channel merchant of quality outdoor gear and apparel. Founded in 1912 by Leon Leonwood Bean, the company began as a one-room operation selling a single product, the Maine Hunting Shoe. While its business has grown substantially, the company remains committed to the same honest principles upon which it was built – a focus on the customer, continuous product improvement and innovation, respect for people, preservation of the natural environment and a 100% satisfaction guarantee. L.L.Bean products are rigorously tested, guaranteed to last and always shipped free. The 220,000 sq. ft. Flagship campus of stores in Freeport, Maine is open 24 hours a day, 365 days a year and welcomes more than three million visitors each year. L.L.Bean can be found worldwide at llbean.com. Join L.L.Bean on Facebook, Twitter, and YouTube.
###