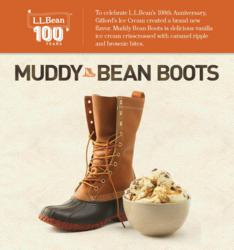 L.L.Bean and Gifford's share many of the same qualities. They are both family owned, Maine companies, that take pride in producing a quality product right here in Maine.
Freeport, ME (PRWEB) March 12, 2012
In honor of its 100th Anniversary, outdoor retailer L.L.Bean has partnered with Gifford's Ice Cream, a fifth generation, family-owned Maine company to create "Muddy Bean Boots," a special-edition ice cream flavor. The new flavor is made with Gifford's award-winning Old-Fashioned Vanilla ice cream, criss-crossed with sweet caramel ripple and tossed with rich chocolate brownie bites.
Throughout the year, L.L.Bean is partnering with select Maine companies to create specialty, limited-edition products to highlight its 100th anniversary. "L.L.Bean and Gifford's share many of the same qualities. They are both family owned, Maine companies, that take pride in producing a quality product right here in Maine," said Kelly Warsky, L.L.Bean's Partnership Marketing Manager. "They both give back to their communities and are beloved by generations of fans across the country." L.L.Bean and Gifford's will donate a portion of the proceeds from the sale of Muddy Bean Boots ice cream to support Healthy Hometowns, a non-profit Maine based program that engages young people and their families in active, healthy, lifestyles through outdoor recreation.
"When L.L.Bean asked us to help them celebrate 100 years, we quickly realized that this flavor should pay tribute to the company's iconic product - L.L.Bean Boots," said Lindsay Gifford-Skilling, Gifford's Vice President of Sales. "My entire family has grown up wearing Bean boots; focusing on them was the only way to go."
Muddy Bean Boots will be available for purchase at Gifford's Ice Cream's five family-owned stands throughout Maine beginning March 16 and at 1,500 independent stands, restaurants, colleges, universities, hospitals and hotels throughout New England, New York, New Jersey, Maryland, Washington DC and Virginia. To find a Gifford's Ice Cream location email info(at)giffordsicecream(dot)com or call 207-474-9821.
Muddy Bean Boots photos available on L.L.Bean's Flickr.
About L.L.Bean, Inc.
L.L.Bean, Inc. is a leading multichannel merchant of quality outdoor gear and apparel. Founded in 1912 by Leon Leonwood Bean, the company began as a one-room operation selling a single product, the Maine Hunting Shoe. While its business has grown over the years, L.L.Bean still upholds the values of its founder, including his dedication to quality, customer service and a love of the outdoors. L.L.Bean products are rigorously tested, guaranteed to last and always shipped free. In the past five years, L.L.Bean has donated over $6 million toward conservation and land stewardship. The 200,000 sq. ft. L.L.Bean retail store campus in Freeport, ME, is open 24 hours a day, 365 days a year, and welcomes more than 3 million visitors every year. L.L.Bean can be found worldwide at llbean.com, Facebook, Twitter and YouTube.
About Gifford's Ice Cream
Gifford's Ice Cream sources its fresh cream and milk exclusively from independent family farms in Maine. The fifth-generation, family-owned company relies on antique 1940s Cherry Burrell freezers, coupled with a state-of-the-art freezing system, to achieve its award-winning, creamy texture and fresh-churned consistency. Gifford's Ice Cream uses only the finest ingredients, including nuts, berries, fruits, premium chocolate, imported vanilla extract and pure, all-natural Maine maple syrup. It has earned numerous international and national "First Place" and "World's Best" awards for Gifford's premium ice cream and sherbet, and continues to expand its distribution and offerings. Visit Gifford's at giffordsicecream.com and Facebook.com/GiffordsIceCreamMaine.
###