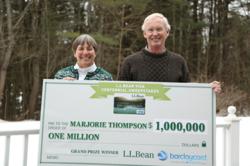 The sweepstakes was an exciting way for L.L.Bean to celebrate the 100th Anniversary with our customers.
Freeport, Maine (PRWEB) February 08, 2013
L.L.Bean and Barclaycard US today announced the $1 million grand prize winner of the L.L.Bean Visa Centennial Sweepstakes. On February 8th at 11:00 a.m., L.L.Bean and Barclaycard US officials presented Marjorie Thompson of Cumberland, Maine with a check for $1 million. The presentation marks the conclusion of L.L.Bean's year-long 100th anniversary celebration and sweepstakes.
"The sweepstakes was an exciting way for L.L.Bean to celebrate the 100th Anniversary with our customers," said Chris McCormick, L.L.Bean President and CEO. "Winning a million dollars is a life-altering event and we are delighted for Marjorie and her family."
During the national sweepstakes, which launched in March and ran through December 2012, L.L.Bean VISA cardmembers were automatically entered for a chance to win one of 25 monthly prizes with every purchase made using their card. Cardmembers increased their chances of winning by using their cards to purchase everyday items such as gas, groceries, utilities and retail.
From over 220 million entries, the winning entry was an L.L.Bean Visa purchase transaction made at the Kimball Shop in Northeast Harbor, Maine.
"L.L.Bean is an iconic brand with a loyal customer base," said Amer Sajed, CEO, Barclaycard US. "Marjorie has been a loyal cardmember since the launch of the program, and we are simply thrilled to present her with the grand prize. The Centennial sweepstakes underscores the value we place in our partnership with L.L.Bean, and our serious commitment to its customers."
Sweepstakes winners were selected in a random drawing under the supervision of Marden-Kane, Inc., an independent judging organization. Each month, 25 lucky entrants were chosen to receive one of the following prizes: $500 L.L.Bean Gift Card, a pair of Bean Boots, Camping Package, Kayaking Package, 100th Collectors Knife and Case, Double L Fly Rod and Reel Package or $500 L.L.Bean Outdoor Discovery Schools Adventure Gift Card.
"Given the huge number of entries in the sweepstakes, it is remarkable that the winning card holder resides in Maine and the winning purchase was made here in Maine, our own backyard," said Shelly Bartlett, L.L.Bean Vice President of Card Services. "We are delighted that we had so much interest in the sweepstakes and it is wonderful to have winners from over 30 different states, as it truly helps us celebrate the many cardmembers/customers that L.L.Bean has."
There was no purchase, transaction or card application necessary to enter or win the L.L.Bean Visa Centennial Sweepstakes. Please visit http://www.llbean.com/1million for complete sweepstakes rules, terms and conditions.
About L.L.Bean, Inc.
L.L.Bean, Inc. is a leading multichannel merchant of quality outdoor gear and apparel. Founded in 1912 by Leon Leonwood Bean, the company began as a one-room operation selling a single product, the Maine Hunting Shoe. While its business has grown over the years, L.L.Bean still upholds the values of its founder, including his dedication to quality, customer service and a love of the outdoors. L.L.Bean products are rigorously tested, guaranteed to last and always shipped free. In the past five years, L.L.Bean has donated over $6 million toward conservation and land stewardship. The 200,000 sq. ft. L.L.Bean retail store campus in Freeport, ME, is open 24 hours a day, 365 days a year, and welcomes more than 3 million visitors every year. L.L.Bean can be found worldwide at http://www.llbean.com, Facebook, Twitter, YouTube, Pinterest and Instagram.
About Barclaycard US
Headquartered in Wilmington, DE., Barclaycard US creates customized, co-branded credit card programs for some of the country's most successful travel, entertainment, retail, affinity and financial institutions. The company employs 1,200 associates and was named a Top Workplace in Delaware in 2012. For more information please visit https://www.barclaycardus.com.
###