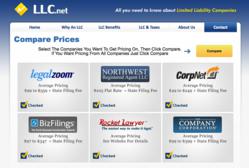 Our goal is really to become the go-to destination for small business owners and entrepreneurs. We will continue to create more tools and resources to help the small business owner.
Delray Beach, FL (PRWEB) May 01, 2012
LLC.NET, a leading provider of incorporation and limited liability company formation services, has recently announced the launch of their comparison engine for this highly competitive industry. Until recently LLC.NET would actually provide business owners or prospective business owners with these services through a third-party registered agent service. While they had found this model to be successful, they felt that they could better serve small business owners by taking a different approach. The two Co-Founders of LLC.NET have internally given this new business model the moniker of the "Kayak for incorporation services."
The new LLC.NET model will function in the following way: if a consumer is interested in forming a new limited liability company or another type of corporate entity, they simply visit the site and select which of the main incorporation and business formation service providers they would like to receive quotes from. LegalZoom, Incorporation.com, and Northwest Registered Agent, LLC are just a few of the participating service providers, which will compete for the consumer's business under this new model.
LLC.NET publishes an updated list of each service provider's approximated price range for its services for the consumer's review. The consumer will first check off which providers they want to compare, and then submit their email address to receive the full pricing list, which will also reflect any available discounts that are currently being offered. LLC.NET will then email the individual a discount link or coupon code from the selected service providers. Not only will the individual have the opportunity to compare the prices and services of a variety of companies, but also, in many cases, they will be able to receive an additional discount on their business formation.
In addition to the discounted pricing offered by LLC.NET for new businesses, if any existing company chooses to use LLC.NET for it's yearly renewals, LLC.NET will provide them with a 5 to 10% cash back bonus of their yearly renewal fees.
"We feel that this new business model is a better way for us to serve entrepreneurs and is a great fit with the other services that LLC.NET offers business owners in an effort to be more successful" said Sean Patrick, Co-Founder of Delray Beach based LLC.NET.
In addition to providing incorporation formation services, LLC.NET also provides businesses with valuable tools to help increase its online internet presence and its website's efficiency. In 2011 LLC.NET acquired AntivirusSoftware.net (AVS), a company that provides a service, which scans websites for malware and viruses. If a website is determined to be clear of malware and viruses, the site is provided a Malware Free Safe Site badge to prominently display on its home page.
AVS' scanning services are similar to what other companies like Verisign, Truste and McAfee's offer; however AVS' services are free, whereas the other companies charge as much as one thousand dollars a year. Since the acquisition of AntivirusSoftware.net last year, LLC.NET has been providing scanning services and use of the badge, at no cost, to any business owner who formed an LLC or Corporation with LLC.NET.
LLC.NET also provides its clients with the Verified Business Badge, which is similar to the badge offered by the BBB and is essentially a certification service that let's a visitor to a businesses' website have confidence in knowing that the company is current with all of the required state filings and is in good standing in the business community. Again, this is a service that many companies offer, but charge hundreds and sometimes thousands of dollars a year for. The general point of these services is to instill confidence in the visitor to a website that it is safe, secure and that the business is reputable.
According to Sean Patrick, "The Internet can really be the great equalizer when it comes to business. At the same time it provides a lot of dishonest individuals with an easier way to commit fraud on a number of levels. So it's critical for any business that wants to be taken seriously to have services like this in place."
LLC.NET's new business model, in addition to its two badges and associated services, are essential product offerings for a new or existing business owner and it would certainly be reasonable if LLC.NET would begin charging for these services, which they previously gave away for free to their clients; however, that will not be the case.
LLC.NET is currently in discussions with its business formation service partners about offering their clients (past and present) with access to the AntivirusSoftware.net Malware Free Safe Site Badge service and the LLC.NET Verified Business Badge service, free of charge.
Sean Patrick stated, "Our goal is really to become the go-to destination for small business owners and entrepreneurs. We will continue to create more tools and resources to help the small business owner. If we can get closer to that goal by giving away some of the tools and services for free, we are happy to do so. The team here at LLC.NET are all entrepreneurs and we embrace and champion the adventurous spirit, courage and energy that is required to make that leap in becoming a small business owner."
Acorius Inc., which was founded by Sean Patrick and his business partner, is the parent company of LLC.NET and AntivirusSoftware.net. Not only does the company have a large footprint online in the incorporation space, but aside from LLC.NET, they also own and operate SCorporation.net, CCorporation.net, as well as a number of other business-related sites.
Acorius Inc. also owns a company that provides business owners with access to other great services for banking and business credit cards through sites like CheckingAccount.com and CreditCardsFSB.com. Small business owners should certainly take the time to research all of the tools and services offered, many of which are free.
Acorius Inc. is based in Delray Beach, Florida.