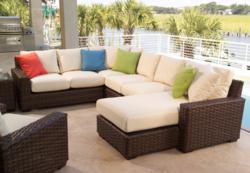 Lloyd Flanders makes quality wicker furniture that is Made in the USA!
Chicago, IL (PRWEB) September 30, 2011
Lloyd Flanders wicker furniture is available for sale at FurnitureForPatio.com. Lloyd Flanders produces quality American made wicker furniture that features upscale design and stylish comfort. There furniture is the most sought-after all weather wicker furniture available today. FurnitureForPatio.com is excited to be able to offer its customer the quality and craftsmanship of Lloyd Flanders wicker furniture. In today's tough economic climate FurnitureForPatio.com is always happy to offer customers quality outdoor furniture that is Made in the USA!
Lloyd Flanders produces two types of wicker furniture available in different styles and options. The Original Lloyd Loom collection is the most storied type of Lloyd Flanders furniture. The Lloyd Loom furniture uses an advanced process for weaving cellulose stands into wicker that will not burr, crack, or peel and produce a consistently smooth weave. The Lloyd Flanders Original Lloyd Loom furniture is available with a variety of standard and premium wicker finishes. The Lloyd Flanders Woven Vinyl furniture collections have the appearance of natural loomed wicker with different hand-woven designs. The woven vinyl wicker strands are reinforced by a nylon cord for superior strength and durability. The woven vinyl is hand crafted for Lloyd Flanders and features added UV inhibitors to prevent the furniture from fading in the sun. The vinyl collections include a variety of different styles of wicker furniture available in different finishes and weaves.
The Reflections Collection by Lloyd Flanders is one of the most popular collections from the Original Lloyd Loom collection. In 2012, Lloyd Flanders is celebrating the 25th anniversary of the Reflections collection. The Reflections furniture is an All-American made furniture that features a classic wicker design. The furniture features comfortable deep seating cushions that will provide comfort for hours. The Reflections Lloyd Flanders furniture is available in both standard and premium wicker colors.
The Contempo collection from the Lloyd Flanders woven wicker series features a modern style with classic designs. The Contempo furniture features rich color and the texture of rattan peel that looks great on any patio. The Contempo collection is crafted from a distinct large-scale premium synthetic wicker that is engineered for outdoor use. The Lloyd Flanders Contempo collection features a variety of different chairs, tables, sectionals, chaises, and more.
Lloyd Flanders furniture can be customized with a variety of different wicker finishes and custom outdoor cushions in the fabric of your choice. Lloyd Flanders furniture is custom made at the time of the order and can be delivered in 2-4 weeks. Customer's can be confident that when they buy Lloyd Flanders furniture at FurnitureForPatio.com they are receiving a quality shopping experience. All of the furniture is listed with the most detailed information and can be custom ordered to the customer's specifications. For generations Lloyd Flanders has been making quality wicker furniture that is made in the USA!
To learn more about Lloyd Flanders furniture, visit FurnitureForPatio.com. At FurnitureForPatio.com you can view and purchase Lloyd Flanders chairs, tables, sectionals, Lloyd Flanders chaises, sofas, and more. FurnitureForPatio.com offers a safe and secure online shopping environment that is backed up by one million dollar guarantee. The store offers greatest flexibility in ordering patio furniture that is custom made to a customers specification.
###