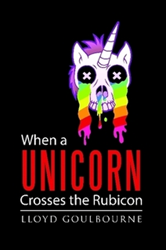 MT. VERNON, N.Y. (PRWEB) August 22, 2016
In "When a Unicorn Crosses the Rubicon" (published by Lulu), author Lloyd Goulbourne introduces readers to Angie and Taylor, who seem to have almost everything going for them during their senior year of high school. Like many teens, they believe they are almost fully prepared to undertake the next scripted challenges in life – until life changes their plans.
"This book began as a short story with the intentions of introducing a traumatic event," says author Lloyd Goulbourne. "I wanted to present an issue that occurs in everyday life so it could resonate with readers. Once I presented the event I felt as though I needed to see it through to the other side, no matter how difficult or unorthodox it might become."
In the book, Angie and Taylor must learn to face their demons. Goulbourne addresses violence and sexual assault against women, noting that it is "a continuing problem in our society." While the book is graphic in detail, the imagery is intended to portray the terrifying reality.
More information is available at: http://www.facebook.com/the.lloydgoulbourne/.
"When a Unicorn Crosses the Rubicon"
By Lloyd Goulbourne
Softcover | 6 x 9 in | 140 pages | ISBN 9781483454054
E-Book | 140 pages | ISBN 9781483454047
Available at Amazon and Barnes & Noble
About the Author
Lloyd Goulbourne is a graduate of Hofstra University; he has been the consummate commuter on this cyclical trip called life. Now he's the dreamer that ignores convention and takes a shot at doing what he loves, which is bringing his imagination to life and sharing pieces of himself in an effort to bring anyone willing to take a trip with him on the next leg of his journey. "When a Unicorn Crosses the Rubicon" is the first step in a new journey.
Lulu empowers people of all ages to explore and express their interests, passions and expertise through books, photography and art. Since introducing self-publishing in 2002, Lulu has empowered creators in more than 225 countries and territories to produce nearly two million publications. Lulu Jr. allows children to become published authors, encouraging creativity, strengthening literacy and building self-esteem. Picture.com offers professional photography of collegiate and professional sports, memorable and historic events, fine art and home décor. For more information, please visit lulu.com.