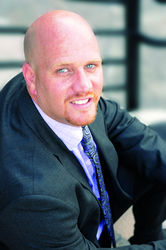 Lloyds Commodities has brought transparency to the precious metals market like no other firm can acclaim. We bring transparency and experience at a time when precious metals are the best investment vehicles ever seen in history.
Palm Beach Gardens, Fla. (PRWEB) May 4, 2010
LloydsCommodities.com is showcasing a presentation featured by James R. Burbage III, CEO, at The MoneyShow at Caesars Palace in Las Vegas, Tuesday, May 11, 2010 from 8:45–9:30 AM. PST. Visit him at Forum Exhibitor Room 1-3 or listen to his streaming live webcast.
Mr. Burbage accounts for his individualized, professional and successful efforts in the precious metals industry through his personalized training platforms with his staff, his customized client approaches and his ability to maintain a transparent and clean business approach.
"Looks at gold and silver are offering excellent entry levels based on small market retracements. Due to some short term dollar vigor before a major breakout for both markets (Gold, Silver)," Mr. Burbage states.
James R. Burbage, III, Chief Executive Officer of Lloyds Commodities, began his financial career over 12 years ago. Throughout his career, Mr. Burbage has sought to bring true transparency to the precious metals commodities business. His successful ownership experience of several investment companies has brought him a trustworthy client base and dynamic, engaging leadership style.
The precious metals commodities trading business has never seen the transparency, deliverability and trustworthiness Mr. Burbage has created. Mr. Burbage is featured frequently in the national media, including CNBC, FOX News, and Bloomberg.
Additionally, he speaks regularly with reporters from the New York Times, Wall Street Journal, and other publications where his market views are often quoted.
Lloyds Commodities is located in Booth 121 to speak professionally, individually and privately with you about your investment opportunities in precious metals throughout the duration of the conference.
The MoneyShow is predominantly known as the essence of a conglomeration of where the best and the brightest in the world of investments and finance converge to navigate you through the management, growth and protection of your investment portfolios.
###