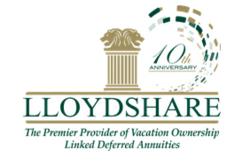 Los Angeles, California (PRWEB) June 12, 2013
Lloydshare Deferred Annuities is a vacation ownership and deferred annuity program that honors staff members for their high sales every year, which is why the Gold Coin Award is such an amazing honor. This year sales representative Jose Jorge Garay has achieved the highest sales numbers out of the entire staff at the Grand Velas All Suites & Spa Resort, and as such, has received the Gold Coin Award for 2013.
Lloydshare Deferred Annuities always wants to provide recognition to those individuals that are doing exemplary work in their day-to-day sales, which is why they search out the most dedicated persons for the Gold Coin Award. In searching through all staff members at the Grand Velas Riviera Maya, Mr. Jose Jorge Garay is the sales leader of the staff of Grand Velas for 2013.
Lloydshare Deferred Annuities CEO Martyn Ravenhill personally made a trip out to the Grand Velas to award the Gold Coin Award in person to Mr. Garay. Upon receiving this award, Mr. Garay stated, "The Lloydshare Deferred Annuity program is an excellent tool to increase the value of the vacation club product, and as such sells itself." It is because of this fabulous product and the personal drive of Mr. Garay that he has been so successful with Lloydshare and has received this Gold Coin Award.
Lloydshare Deferred Annuities understands how vital sales representatives are to their company's daily operations, which is why they single out excelling members to award with these prestigious awards and amazing achievements. The Gold Coin award is the highest sales achievement possible, which is why this award is so important every year.
Lloydshare Deferred Annuities presents the gold coin award to sales representatives that have achieved the highest number of sales of the Lloydshare Deferred Annuity program. Lloydshare Deferred Annuity is an incentive sold exclusively through Lloydshare and provides resorts with the ability to overcome objections from travelers ever year. The amazing program from this company have many travelers utilizing the services of Lloydshare Limited for their vacation needs this summer.r.
****
Lloydshare Deferred Annuities Contact Information:
World Trade Centre 1st Piso
Calle 53, Marbella
Apartado Postal 0832-0755 WTC, Panamá
Republic of Panama
Tel. 507 205 1993
Fax. 507 205 1802
info (at) lloydshare (dot) com
http://www.lloydshare.com