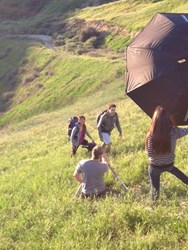 Everything we do is based on changing lives for the better by sharing our knowledge and empowering our community.
Loma Linda, Ca (PRWEB) September 25, 2013
Loma Linda University Health (LLUH) has launched a national branding campaign highlighting not just the patients it serves, but its students, faculty, physicians and staff. The branding and advertising campaign positions LLUH as the leader in health, well-being and wholeness through clinical care, academia and research.
At the heart of the brand platform is the mission of Loma Linda University Health: "to continue the teaching and healing ministry of Jesus Christ." LLUH doesn't just talk about its mission – it Lives It.
"The goal of LLUH is to be the example for the way patients are cared for and students are taught," said Richard H. Hart, MD, DrPH, president and CEO of LLUH, "all in an effort to help people live longer, healthier lives. To do this Loma Linda University Health has launched 'Live It' to let everyone know our dedication to wellness extends beyond jobs, teaching and research—it is how we live."
Dr. Hart continued, "Everything we do is based on changing lives for the better by sharing our knowledge and empowering our community. As we embark on this national campaign, we encourage not just our students, physicians and employees to 'Live It' but everyone in the community as well."
The campaign includes print, outdoor, transit, television, radio and digital ads that are appearing locally, regionally and nationally. Each ad features a member of the LLUH family, a patient or a member of the community highlighting one of their characteristics that encompass how they "Live It."
One of the first "Live It" ads that can be seen, for example, is that of Andrejs, a health policy and leadership student at Loma Linda University. The way he chooses to "Live it" is through learning how to develop important resources that will help others and by designing community outreach programs. Additionally, Andrejs stays "active" by hiking nearly every weekend and volunteering at his church's after-school program. Since shooting the ad, Andrejs has become a full-time employee at LLUH Center for Health Policy and Leadership.
The campaign is a collaborative effort with between LLUH public affairs and Neathawk Dubuque & Packet, an advertising/marketing/public relations firm based out of Richmond, Virginia.
"ND&P has had a strong relationship with Loma Linda University Health for eight years, and their reputation has preceded them ever since," said Susan Dubuque, principal, ND&P. "LLUH is an organization that stands behind its values, respects and appreciates its students, patients and staff. We believe in the 'Live It' campaign, and we are honored to have partnered with them on this incredible journey."
To learn more Loma Linda University Health, watch the "Live It" branding video and other branding spots here: http://www.youtube.com/watch?v=gcd6TrP4-hk or visit http://www.lluhealth.org.
How will you "Live It?" Tell us by clicking the "share your story" tab on our Facebook page.
Photo Caption: Loma Linda University graduate and employee, Andrejs, is photographed with his friend, Jaecelle, also a student at LLU, while hiking in Hulda Crooks Park in Loma Linda, Calif. for the LLUH "Live It" campaign.