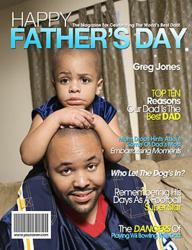 This is going to be the perfect father's day gift for my husband...we are in the process of building a major "man cave" so it will be a fantastic addition to this room! It is super high quality, [...]...LOVE IT!
Wilton, CT (PRWEB) June 13, 2013
Shoppers looking for last minute gift ideas for Father's Day do not have a lot of options. Most last minute gifts consist of gift cards or food, neither of which conveys the personal feelings of love and respect that should be conveyed on this very special holiday. YourCover is uniquely situated to provide a gift for Dad that is personal and that recalls happy memories.
YourCover is able to provide an instant gift that is delivered immediately upon purchase. This gift is a personalized magazine cover in the form of a photo/image file. This image file is on the order confirmation page, it is emailed to the customer and it is in the customer's Purchase History. Shoppers looking for last minute Father's Day gifts can make a magazine cover at YourCover, purchase the image file, download the file and print it at home or at a local print or photo shop. YourCover recommends placing the fake magazine cover in a frame for the best presentation.
The steps to make a magazine cover are fast and easy. Shoppers have 80+ choices of magazine cover templates including Father's Day and Best Dad, plus 'interest-related' covers such Golf, Football, Hero, Sports, Hunting, Fishing, and more. After choosing the template, a photo of Dad is uploaded to the cover editor and then the customer can personalize the default headlines to be all about the Dad starring on the front cover. Those unique memories, names and stories are the key to creating a personalized last minute Father's Day gift that will bring a smile to Dad's face.
For shoppers with more time YourCover is able to print and frame the fake magazine cover and ship it with or without a gift message. YourCover has been providing magazine cover gifts since 2000 and is proud to boast online reviews averaging over 4.5 stars.