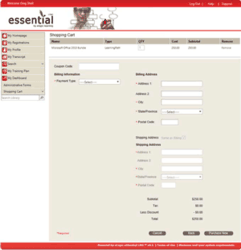 More and more organizations are realizing the power of using a learning management system to drive additional revenue streams for their organization.
Tampa, Florida (PRWEB) November 08, 2012
eLogic Learning (eLogic) is a leader in the e-Learning field. eLogic's primary e-Learning solution is the eSSential Learning Management System. As part of the new release of eSSential, eLogic has expanded the eCommerce functionality of its LMS.
The eCommerce Module of the eSSential LMS has enhanced abilities to integrate with clients' web sites and portals. The new structure optimizes clients' ability to drive SEO traffic to their web site and seamlessly transition the buyer through the eCommerce transaction. The buyer has a simple, streamlined process which minimizes abandoned shopping carts. Once an item is purchased, the buyer has access to the power of delivering that training through the eSSential LMS.
eLogic Learning's clients now have the ability to manage and sell e-Learning courses, instructor-led training, certifications, and physical goods (books, DVDs, CDs, etc.) through the new eCommerce module. Pricing is extremely flexible and can be set up to offer different pricing levels by client or by geography. The new module also introduces robust coupon capabilities with discounting available on a fixed dollar or percent basis. The coupon can be applied to a full shopping cart or limited to a specific item. The coupon can also be structured to have a finite quantity of redemptions available or limited to a specific redemption time frame.
Greg Shell, Vice President of Professional Services at eLogic Learning, stated, "More and more organizations are realizing the power of using a learning management system to drive additional revenue streams for their organization. They are creating a win/win with their clients by delivering additional value added services which is strengthening their relationship with their customer while also generating revenue which would not have otherwise been available. eCommerce has traditionally been an afterthought for LMS providers and thus never really was delivered in a fashion to meet even basic B2B or B2C needs. We saw the void in our industry and dedicated the resources to building a solution that is second to none in our space."
To learn more about eLogic Learning, please visit http://www.eLogicLearning.com.
About eLogic Learning:
eLogic Learning, headquartered in Tampa, Florida, is an award-winning industry leader in web-based learning management solutions and corporate training services. Currently, there are millions of licensed users of "eSSential," eLogic Learning's robust Learning Management System (LMS). Clients include Bloomin' Brands, Inc. (parent of Outback Steakhouse, Bonefish Grill, etc.), Primerica, Sage Software, Vitera Healthcare, Citizens Property Insurance Corporation, Cobb Energy, the Make-A-Wish Foundation, MetLife, and many others. The eSSential Platform has been independently reviewed by the ADL to be SCORM-certified, ensuring their clients benefit from all SCORM functionality. eLogic Learning is a Microsoft Certified Partner and ISV.
In addition to its Learning Management System, eLogic Learning develops custom e-Learning content and courses as well as providing an extensive third-party courseware library. eLogic Learning also offers professional services in content strategy and business process change in the development of corporate training programs. eLogic Learning offers its clients a comprehensive turnkey approach to implementing learning strategies.