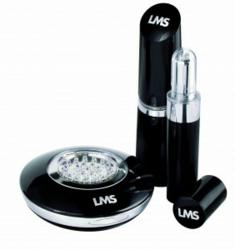 Looks just like a mascara so I keep it in my handbag with my make-up
(Vocus/PRWEB) February 06, 2011
Skin care is being revolutionised with the launch of LMS Spotlights, a unique, luxury beauty range that uses red light therapy, a natural skin treatment that's clinically proven to help clear spots, fast.
Designed to look like our favourite cosmetics, LMS Spotlights are sleek, stylish and discreet. They are available in three sizes for different skin coverage needs; and only need to be used for as little as one minute three times a day, meaning they can easily form part of a daily skin care routine – so cleanse, tone and LMS!
Lucie Jones, actress, model and former X Factor star has teamed up with LMS to launch the range, which will be available online at http://www.lmsspotlights.com and in-store at Harrods from 26 January 2011.
Lucie says: "Whether I am performing, going out for the evening or just hanging out with my friends, I want to look my best, and like all girls the last thing I want is a spot denting my confidence. LMS Spotlights are fantastic; LMS Spotlight 8 looks just like a mascara so I keep it in my handbag with my make-up. It is so discreet that I can use it on the go to treat my skin at the first sign of a spot."
Julian M Winer Bsc (Ost) DO, red light therapy expert, at the Diagnostic, Laser, Osteopathic Clinic in London, says: "I have used red light therapy for many years and having seen the benefits of the treatment first hand, I am really pleased to see a compact and easy to use product made available to the public. By speeding up skin cell repair, LMS Spotlights reduce redness, inflammation and spot healing time. They are designed by industry leaders and unlike many other spot treatments, only use natural light so there are no side effects and they won't dry out the skin or clog the pores."
LMS Spotlights use technology proven to increase the production of new skin cells by 155 per cent* and on average people can expect spots and mild to moderate acne to heal twice as fast as their skin's natural healing time. Red light therapy using LEDs was originally developed for NASA, and is a natural skin treatment that is clinically proven and medically tested to treat mild to moderate acne. All the LMS Spotlights have medical CE approval.
To use LMS Spotlights, simply hold the button for a couple of seconds to activate the therapeutic red light and hold over the affected area for as little as one minute, three times a day until the spot has gone. All LMS Spotlights are battery operated, so can be used anywhere and at any time.
There are three LMS Spotlights in the range:
LMS Spotlight 3 is ideal for use on a single spot. Just pop it in your clutch or pocket so you have it on hand to act fast at the first sign of a spot. Price: £29.99
LMS Spotlight 8 is ideal for use on a few spots. As well as using it at home, it fits easily in your handbag, so you can keep your skin care routine going throughout the day. Price: £49.99
LMS Spotlight 24 is ideal for use on a larger skin area. It is stylishly designed to look like a compact. Perfect for using at home, it sits neatly on your dressing table and fits easily into your daily skincare routine. Price: £69.99
LMS Spotlights are a revolutionary way to treat spots, to find out more about how the LMS Spotlight range can help get rid of spots, visit http://www.lmsspotlights.com and join us on Facebook at lmsspotlights.
For more information and interview opportunities with Lucie Jones contact Elizabeth Porter on 020 7010 0851.
###