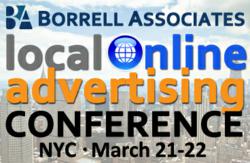 These five companies are producing phenomenal results in some of their markets.
Williamsburg, VA (PRWEB) February 21, 2012
Borrell Associates has identified five local media companies as top share-getters of online advertising in their respective markets. Each has several local properties that are getting at least 4x the average share of local online advertising compared with their peers, thriving in what Borrell Associates calls "The Green Zone" among the thousands of media companies it tracks. Some are getting up to 17 times the average.
The companies are The McClatchy Co., Morris Communications, Deseret Media, Cox Radio and Gray Television.
Digital-media executives from each of the companies will be addressing Borrell Associates' 2012 Local Online Advertising Conference in New York next month. They are among 58 speakers representing some of the largest and fastest-growing companies in the local online advertising space.
"These five companies are producing phenomenal results in some of their markets," said Gordon Borrell, CEO. "They belong to an elite club – a handful of media companies that are quietly knocking the ball out of the park with their digital ventures.
"The average newspaper in a small market, for instance, might get 3.3 percent of all local online advertising," Borrell added. "A best-practice paper would get 14 percent. In a place like Toledo, for instance, that would mean the difference between getting about $3.3 million this year versus $14 million. So getting into our Green Zone is no small feat."
Borrell Associates selected the companies from its database of more than 5,300 local media companies it tracks through ongoing revenue surveys. It produces annual assessments of online advertising revenue growth and market share for entities such as newspapers, TV and radio stations, cable companies, yellow pages, and Internet pureplay companies. Its annual report, "Benchmarking Local Online Operations," will be published next month.
One of the companies, Deseret Media , has grown its digital revenues so radically at its newspaper, TV and radio operations in Salt Lake City that Borrell has invited five of its executives – including CEO Clark Gilbert – to be featured in a 75-minute workshop at Borrell's conference. The company's telemarketing operations alone have garnered 15,000 online advertisers in Salt Lake City.
The others will be featured in a session entitled, "Who's Leading the Pack?" They are:

Christian Hendricks, vice president of interactive media for The McClatchy Co. McClatchy has several newspaper properties that achieved up to 17 times the share of local online advertising among peer-group newspapers.
Mike Braun, vice president of digital sales operations for Gray Television. Gray has several TV stations that got up to four times the average share last year.
Jeffrey Ulrich, senior director of digital sales and training at Cox Media Group. Cox had several radio properties that attained up to five times the share of online advertising compared with the average radio station cluster in similar-size markets.
Mark Lane, vice president of sales for Morris Communications. Morris has multiple newspaper properties with up to 16 times the average digital share of its peers.
The Borrell Associates' Local Online Advertising Conference is held annually at the Grand Hyatt, in NYC, March 21-22. A pre-conference mobile ad-sales workshop, in conjunction with the Mobile Marketing Association, will be held on March 20.
A streaming video option will be available also. For more information contact Borrell Associates Executive VP Peter Conti.
# # #