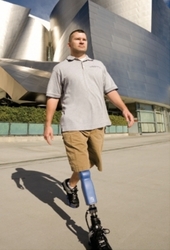 This is a demonstration of the high standards that are running throughout all our factories. Flintec now has third party medical industry certification of the quality systems running from product research and development through to manufacture.
(PRWEB) November 1, 2010
Flintec has become the first major load cell manufacturer to gain a vital quality standard for the engineering of medical devices.
Global load cell supplier Flintec has scored a major coup by gaining the highly respected EN13485 standard.
EN13485 is a crucially important quality standard for Flintec which cites the medical and pharmaceutical sector as the fastest growing area of its load cells business.
It means that more medical equipment manufacturers than ever across the world will be entrusting their most complex load cell, weighing and force measurement challenges to Flintec's world-class engineers.
Increasingly that means bringing in load cell manufacturer Flintec's engineers at the start of the design process – enabling them to provide critical solutions that cut project costs and shorten time to market.
Flintec Managing Director David Weeks said of the EN13485 standard: "This is a demonstration of the high standards that are running throughout all our factories.
"Flintec now has third party medical industry certification of the quality systems running from product research and development through to manufacture."
He added: "A lot of work has gone into this. There has been a significant effort on behalf of all our staff across the organisation to ensure that all our systems are in place in manufacturing and engineering.
"This demonstrates the dedication of the team across the world – engineers, manufacturing and management have all factored in this important strategic announcement."
Load cell manufacturers at Flintec have already scored major successes in the medical sector over the last 12 months including:

recruiting eight new software and electronic developers to meet growing demand in the rapidly expanding medical devices division.
creating precision load cells and electronics for new dialysis machines used in critical organ failure situations. They keep patients alive by measuring up to 2,500 times per second the exact quantities of fresh blood and waste blood involved in the dialysis process.
designing custom-made load cells and connector circuits for new infusion pumps used in pain relief fluid drips in hospitals, outpatient clinics and during home care.
developing a force sensor used in an advanced artificial knee joint. The dual-channel sensor controls the movement of the intelligent knee joint so that it flexes or remains firm, depending upon the user's movements.
Load cell suppliers Flintec have expanded their medical and pharmaceutical load sensor business by bringing in expert senior managers with a strong background in the sector.
Head of Engineering Bruce Somerton's background is in the medical sector, as is that of Sri Lanka Managing Director John Owen, who also specialises in quality.
Flintec's range of products includes:

precision accuracy strain gage load cell solutions
electronics including load cell amplifiers, digitising units, weighing indicators, remote displays, measuring instruments
force measurement sensors
customised solutions – bespoke load cells for the most challenging projects.
For more information about load cell manufacturer Flintec and its medical load cell solutions, please contact David Weeks, +44 (0)2920 797959.
Information for Editors:
Flintec UK Ltd
Unit G6, Capital Point
Capital Point Business Park
Wentloog Avenue
Cardiff, CF3 2PY
Tel. +44 (0)2920 797959
Fax +44 (0)2920 797939
Flintec is one of the world's largest manufacturers of precision load cells and strain gage electronics – innovating a diverse range of force measurement solutions for customers who demand optimum accuracy, quality and customer service.
Founded in Sweden, the company has focused upon the design and manufacture of strain gages, load cells, measurement electronics and software for a diverse industry base from weighing machinery to new markets in the medical device, industrial and agricultural machinery and process automation sectors.
Flintec is part of the Swedish Indutrade Group (http://www.indutrade.se) listed on the OMX Nordic Exchange Stockholm. Indutrade comprises 100 subsidiaries with 3,000 employees and an annual revenue of $1 billion.
Flintec's teams have always actively sought out the most difficult load cell weighing and force measurement challenges. Flintec innovates solutions for applications that rival firms either ignored or tackled badly.
In recent years, Flintec has expanded with:
two hi-tech major manufacturing facilities in Sri Lanka (at Katunayake and Koggola)
sales, distribution and customer support facilities in the USA, Brazil, Sweden, Germany, the UK, France, Italy, Sri Lanka, China and India
1,000 highly-trained employees committed to developing innovating measurement solutions, maximum accuracy and rapid delivery.
Major sectors served include medical device manufacturing, process weighing, weighing machinery, industrial and agricultural vehicles, test & measurement plus process automation & control.
# # #