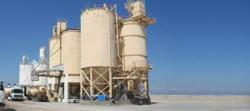 We have beaten our competitors in the Brazilian market through quality. We are taking market share from our competitors because of the quality of our products.
Cardiff, Wales (PRWEB) May 25, 2011
Load cell manufacturer Flintec is celebrating after its new Brazil operation recorded better than expected growth in its first year.
Flintec Brasil LTDA's sales growth for load cells and force measurement solutions topped forecasts by 50 per cent.
Sao Paulo-based Flintec Brasil is experiencing major demand for load cell solutions for oil and chemical companies, process weighing, force measurement and onboard vehicle weighing.
Flintec Managing Director David Weeks said: "We have beaten our competitors in the Brazilian market through quality. We are taking market share from our competitors because of the quality of our products.
"Our company is built on providing solutions to engineers. Most load cell manufacturers simply supply components but we are providing the technology and expertise to solve complex engineering problems."
Flintec's rapid sales growth in Brazil echoes similar success stories in Russia, China and India.
Mr Weeks said: "This has been our most successful launch in the BRIC economies. It has been a fantastic success."
Flintec's Brazil team reports high levels of demand from the scale industry for compression load cells - notably its Type RC3.
The RC3 is a stainless steel rocker column load cell with full hermetic sealing. It is designed for use in tough industrial environments.
Brazil is a key target market for Flintec because the Latin American country's industrial base is growing so rapidly. GDP is expected to grow by 12-15 per cent in 2011.
Increasing numbers of western companies are transferring their production to Brazil, resulting in higher demand for machinery plus transportation of raw materials and finished products.
Flintec is capitalising on this demand by supplying not just off-the-shelf and custom load cells but complete turnkey force measurement solutions.
The load cell suppliers' range of products includes:

precision accuracy strain gage load cells
electronics including load cell amplifiers, digitising units, weighing indicators, remote displays and measuring instruments
load sensor solutions, force measurement sensors
customised solutions – load cells and other force measurement products custom-made for the most challenging applications.
For more information about Flintec's force measurement solutions, please contact David Weeks, +44 (0)2920 797959.
Information for Editors:
Flintec UK Ltd
Unit G6, Capital Point
Capital Point Business Park
Wentloog Avenue
Cardiff, CF3 2PY
Tel. +44 (0)2920 797959
Fax +44 (0)2920 797939
Flintec is one of the world's largest manufacturers of precision load cells and strain gage electronics – innovating a diverse range of force measurement solutions for customers who demand optimum accuracy, quality and customer service.
Founded in Sweden, the company has focused upon the design and manufacture of strain gages, load cells, measurement electronics and software for a diverse industry base from weighing machinery to new markets in the medical device, industrial and agricultural machinery and process automation sectors.
Flintec is part of the Swedish Indutrade Group listed on the OMX Nordic Exchange Stockholm. Indutrade comprises 100 subsidiaries with 3,000 employees and an annual revenue of $1 billion.
Flintec's teams have always actively sought out the most difficult load cell weighing and force measurement challenges. Flintec innovates solutions for applications that rival firms either ignored or tackled badly.
In recent years, Flintec has expanded with:
two hi-tech major manufacturing facilities in Sri Lanka (at Katunayake and Koggola)
sales, distribution and customer support facilities in the USA, Brazil, Sweden, Germany, the UK, France, Italy, Sri Lanka, China and India
1,000 highly-trained employees committed to developing innovating measurement solutions, maximum accuracy and rapid delivery.
Major sectors served include medical device manufacturing, process weighing, weighing machinery, industrial and agricultural vehicles, test & measurement plus process automation & control.
###