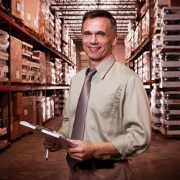 We use Syntelic across all of our distrubution centers to create load maps.
Germantown, MD (PRWEB) March 02, 2012
Syntelic Load Planning software includes advanced logic to dynamically size trailer load maps based on order volumes. Unlike other load planning software that relies on a load planner to manually select a trailer template and figure out the right solution based on trial and error, Syntelic can pick the trailer size and then dynamically move bulkheads without human intervention. As a result, Syntelic calculates a wave of load plans and highlights only a select number of loads for load planners to evaluate before approving. This saves on load planning time, freeing up personnel to focus on other priorities.
Syntelic's dynamic compartment sizing includes logic to avoid having overflow pallets and empty pallet postions on a trailer. For example, if business rules allow it, a dry pallet can be planned to go into a cooler compartment, to utilize an available pallet position without the need for a load planner to make a manual adjustment.
"Syntelic's initial pass at calculating a wave of load plans greatly reduces any time required by a load planner who prior to getting Syntelic had to touch and adjust every load plan," says Scott Balthaser, VP of sales and marketing at Syntelic Solutions Corporation. "The return on investment also adds up on reduced loading time, less overs shorts and damage, end less unload time."
ABOUT SYNTELIC
Some of the largest and most successful distribution companies in the United States rely on Syntelic's focused distribution solutions to analyze data from multiple systems and drive daily warehouse and transportation activities. Since 1996, Syntelic Solutions Corporation has offered supply chain solutions that enhance operational visibility, unlock process improvements, and give users flexible analytical tools to make better decisions. Two of the largest 10 companies with private truck fleets employ Syntelic in their daily supply-chain operations.
# # #