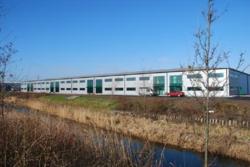 This is a significant financial undertaking and a long-term commitment. It underlines our confidence. We have been seeing growth across virtually all our markets.
Cardiff, Wales, UK (PRWEB) November 08, 2011
Expanding load cell manufacturer Flintec has moved into a new UK headquarters to help drive forward its growth plans over the next 10 years.
The load cells experts continue to invest heavily in innovation by expanding the research and development team at their new 12,000sq ft Flintec UK HQ in Cardiff.
It is a prelude to the Flintec AB Group headquarters function moving from Vesteras in Sweden to the new UK HQ. Flintec will continue to be owned by Sweden's Indutrade Group.
Flintec Managing Director David Weeks said of the new HQ: "This was not a decision that was taken lightly. This is a significant financial undertaking and a long-term commitment.
"It underlines our confidence in the global markets. We have been seeing growth across virtually all our market sectors."
In recent years Flintec has seen big increases in business in the BRIC economies – notably Brazil where the group has launched a new company, Flintec Brasil LTDA.
Flintec Brasil has enjoyed significant success in the oil industry with its new CC1 compression load cells and in the truck scale industry with its RC3 load cells.
But the Flintec group's growth has been across the board as the load cell manufacturers have benefited from the global downturn.
Manufacturers all over the world have been under growing pressure to make their machines work harder and faster to boost productivity in challenging economic conditions.
Increasing amounts of health and safety legislation also require greater and more accurate monitoring of their machines.
Both these trends are creating opportunities in the load cell and sensors business. Flintec has been swift to respond with more custom-tailored solutions that help manufacturers to improve efficiencies and reduce costs.
Flintec's new UK HQ is at least three times the size of its predecessor. Both buildings are at Capital Point on Cardiff's Capital Business Park.
In physical terms, Flintec UK's HQ has moved just 500 metres but in technological terms the leap is far larger.
Eleven of the 15-strong team at Flintec are research and development engineers – keeping its R&D laboratories at the heart of the business, building on existing innovations.
As part of the expansion, Flintec is investing in a new five-tonne deadweight testing machine with plans to bring in a new 25-tonne deadweight testing machine.
The new HQ will accommodate Flintec's ongoing expansion. The strain gauge load cell manufacturer aims to grow its UK HQ team to between 30 and 40 employees over coming years.
Flintec is one of the world's largest load cell manufacturers with markets including weighing; process automation and control; medical devices and industrial and agricultural vehicles.
Its force measurement solutions include metrology grade transducers, fatigue rated transducers and the Type XT50 Extensometer.
For more information about Flintec's force measurement solutions, please contact David Weeks, +44 (0)2920 797959.
Information for Editors:
Flintec UK Ltd
W4, Capital Point
Capital Point Business Park
Wentloog Avenue
Cardiff, CF3 2PW
Tel. +44 (0)2920 797959
Fax +44 (0)2920 797939
Flintec is one of the world's largest manufacturers of precision load cells and strain gage electronics – innovating a diverse range of force measurement solutions for customers who demand optimum accuracy, quality and customer service.
Founded in Sweden, the company has focused upon the design and manufacture of strain gages, load cells, measurement electronics and software for a diverse industry base from weighing machinery to new markets in the medical device, industrial and agricultural machinery and process automation sectors.
Flintec is part of the Swedish Indutrade Group listed on the OMX Nordic Exchange Stockholm. Indutrade comprises 100 subsidiaries with 3,000 employees and annual revenue of $1 billion.
Flintec's teams have always actively sought out the most difficult load cell weighing and force measurement challenges. Flintec innovates solutions for applications that rival firms either ignored or tackled badly.
In recent years, Flintec has expanded with:

two hi-tech major manufacturing facilities in Sri Lanka (at Katunayake and Koggola)
sales, distribution and customer support facilities in the USA, Brazil, Sweden, Germany, the UK, France, Italy, Sri Lanka, China and India
1,000 highly-trained employees committed to developing innovating measurement solutions, maximum accuracy and rapid delivery.
Major sectors served include medical device manufacturing, process weighing, weighing machinery, industrial and agricultural vehicles, test & measurement plus process automation & control.
###