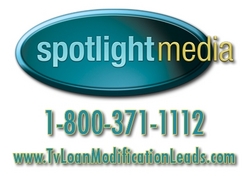 If you are a reputable loan modification, debt settlement or automobile modification company you now have the opportunity to become part of Spotlight Media's elite rotation
Miami, FL (PRWEB) July 27, 2010
Millions of Americans are burdened with high credit card balances, and millions more have fallen behind on their mortgage payments and some are even finding it difficult to maintain their car payments. Through the power of television, Spotlight Media is assisting consumers in helping them team up with reputable financial companies that can alleviate some of the burdens they are experiencing during these trying times.
The objectives for these reputable companies is to negotiate lower interest rates on mortgages, and even realize principal reductions on some mortgages achieving a lower and more affordable payment for the consumer. With overbearing credit card debt, Spotlight media can match consumers to companies that can help them settle that debt for thousands less than they owe and reduce their monthly payments. Along with mortgage assistance, there is help for consumers that are behind in their automobile payments; there are highly regarded companies that can help in modifying automobile loans. Reputable companies looking for Auto Loan Modification Leads can contact Spotlight Media.
If you are a reputable loan modification, debt settlement or automobile modification company you now have the opportunity to become part of Spotlight Media's elite rotation and purchase these Live TV leads that are being generated form our National Television Commercials and have them sent live directly to your organization. You will not only be getting more social media time, you will be playing a crucial part in the re-establishment of the American people. Reputable companies looking for Loan Modification Leads or Debt Leads can contact Spotlight Media.
Spotlight Media is able to generate an extensive pipeline of eligible consumers. These live television leads offer exclusivity and a higher closing ratio to companies as we match suitable consumers to financial relief companies.
There is pressure to help customers find financial relief and assist them to getting back on the road to financial recovery and that is exactly what Spotlight Media is doing by generating high quality TV leads and matching consumers with the financial relief company that best fits their needs.
Spotlight Media is dedicated to helping as many consumers as they can. There are many companies out there claiming they can do what we do but with our combined 45 years in television experience we not only deliver great quality live TV leads but our pricing for these exclusive TV Leads is extremely competitive.
###