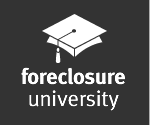 anything is better than just walking away and giving up especially when there are several options available to homeowners which they should consider before simply letting their home go to foreclosure
Orem, UT (PRWEB) August 29, 2012
As many homeowners across the nation struggle to make mortgage payments, some begin to wonder when the light at the end of the tunnel will arrive. For several, it hasn't been fast enough as they see their homes being sold to the highest bidder. Even the typical loan modification has been difficult to get and if successful only provides a temporary solution.
According to RealtyTrac, approximately 2.7 million foreclosure filings were recorded in 2011. That's 1 in every 69 households. "It's unfortunate," says Jarad Severe, a local real estate investor and CEO of Foreclosure University. "So many Americans got caught in the bubble and bought a home at the height of the market. Now we are seeing home prices like they were 15 years ago and now most homes are underwater."
Many homeowners are now upside down on their mortgage meaning they have negative equity and owe more than what their home is worth. Because it was so easy to qualify for home loans, most homeowners were taking out large home equity lines of credit (HELOC) or 2nd mortgages to either pay off debt or buy a few toys. Home prices were also at a premium and all seemed great until the market corrected in 2008.
New CoreLogic data showed that the number of homeowners that have negative equity is about 11.4 million or roughly 24%. That is a shocking statistic. Homeowners in this situation now face challenging decisions... keep paying the mortgage or just walk away. More are more are simply "walking away" and they refer to this as "strategic defaulting". But is this the best solution?
According to Jarad, "anything is better than just walking away and giving up especially when there are several options available to homeowners which they should consider before simply letting their home go to foreclosure."
One of the strategies that most homeowners don't even know about is settling or eliminating the 2nd mortgage. By eliminating the 2nd mortgage, he says, will allow the homeowner more options, help keep them in their home because of a payment reduction and in most cases give the home equity again.
Severe also says that by settling the 2nd mortgage, as opposed to a short sale, the homeowner gets to stay in their home and it doesn't have the negative effects on a persons credit like a short sale does. It's similar to a principal reduction which could help a lot of homeowners right now.
Learn more about settling a 2nd mortgage by visiting http://www.ForeclosureUniversity.com