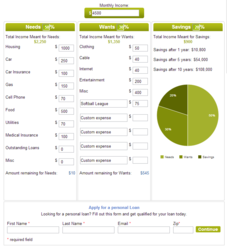 loans.org has set out to provide consumers with the information they need to borrow money responsibly.
Rancho Cucamonga, California (PRWEB) February 06, 2013
After months of research and development, loans.org is proud to announce its newest consumer tool: a Loan Calculator Suite.
This loan calculator suite consists of calculators for home mortgage, student, payday, auto, business and personal loans.
Each one of these digital tools is designed to provide consumers with the calculations necessary to make educated decisions about their loans. The suite contains calculators ranging from the basic to the very complex, each covering a specific question or concern that is simply too hard or too time consuming to compute manually.
A quick introduction and explanation of these calculators can be seen here: http://www.youtube.com/watch?v=rqnwteCh13E
"From the beginning, loans.org has set out to provide consumers with the information they need to borrow money responsibly. Creating this brand new and completely free loans calculator suite was something we felt the public could greatly benefit from," said Cesar Diaz, founder and CEO of loans.org.
In addition to being free, the majority of the loan calculators offered on the website display a consumer's specific results in both text and visual format. The bar graphs and pie charts help users quickly visualize how their particular results will affect them or their existing financing.
Finally, each one of these tools has been carefully designed to be intuitive and easy to use. Unlike other financing calculators, loans.org sought to thoroughly explain ambiguous fields and necessary components.
"Our work on this suite has only just begun," said Diaz. "We will continue to develop and release brand new loan calculating tools as we carry on our pursuit to provide the public with information-rich services."
For more information on the world of lending, you can go to http://loans.org where you'll find a frequently updated library of financing information. Additionally, prospective loan applicants can access free-to-use loan application forms that are designed to put consumers in touch with lenders.
About loans.org:
loans.org is a leading lending authority website that covers financial news, produces informative articles, and answers frequently asked questions. In addition to providing lending-related information, loans.org also hosts a variety of free online application forms for prospective borrowers to use when applying for loans.
For more information, please contact:
Alex Gomory,
Editor, Project Manager
alex(at)loans(dot)org
+1-909-784-2476
SOURCE: loans.org