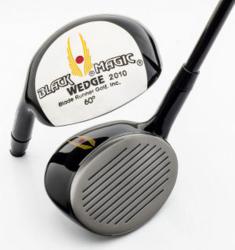 Enhance Your Lob Wedge Shots With Pro Tips From Black Magic Wedge
Clearwater, Fla. (PRWEB) February 06, 2013
Blade Runner Golf, Inc. of the Black Magic Wedge hybrid golf club has released a set of short instructions designed to help amateurs and those with higher skill levels to improve their short game, specifically when using a lob wedge.
The set of techniques, which provide real solutions for gaining better control of a golfer's lob wedge, are centered on utilizing the latest in technology. The organizations own hybrid lob wedge can give golfers a substantial advantage because of its unique design.
Many people have a lot of fear, and uncertainty when they pull out their lob wedge. Because so many short shots require a little bit of finesse. Our ball seems to end up at distances that either require maximum distance for one wedge or choking down on another wedge to get distance. This so often causes uncertainty with many players and they will rush the shot looking up to see the results even before making contact.
With so many clubs in golf to choose from, The organization feels many players are overwhelmed and confused about which lob wedge to buy. Even if, they do end up getting a hybrid lob wedge, they are not always going to see great results if their swing continues on a wrong path.
Often the most used clubs in the game of golf, wedge shots receive little practice. Many golfers will try to work their way around using wedges, but ultimately they will have to rely on them if they want to improve their game.
The company states a great way to go about using a wedge is to get a positive mind frame. "Basically, golfers should approach their chipping and pitching shots with confidence. What gives you confidence is to stay smooth in the take away. You want to visualize a straight line to your target in front of the ball and in back of the ball. Following the line on your take away with a little body twist at the end will allow the golf club to come into the shot from inside that line a little bit with a follow through on the target line. This will make clean shots. Many players cross over the line before contact which causes chunking and off line shots."
Among the many tips is to avoid "tracking" or looking up too soon. The company stresses that the rule about keeping one's head steady still applies. Imagining a circle around the pin or hole will help to lessen the anxiety while feeling the distance necessary to pitch the ball to that circle.
Blade Runner Golf also recommends that players think about chipping or pitching as a percentage of the power needed for the distance. The company advises players to pay attention to their stance but not get too caught up with too many details. Control the distance with finesse not power. There is no certain distance that any of the wedges should go; it is what works naturally for you without over powering.
About
Blade Runner Golf, Inc. is a company that is very serious about the notion that a golfer's short game can make all the difference in his or her final score—and that players can take their short game to the next level if they only have the right club from which to choose. Black Magic's hybrid wedges Conforms to USGA Rules, but also helps golf enthusiasts find new precision and power as they make their way onto the putting green. Black Magic Wedge can be reached on the web at http://www.blackmagicwedge.com.
Contact:
Black Magic Wedge
2519 McMullen Booth Rd
Suite 510-129
Clearwater, FL 33761
Toll Free Phone: 877-799-6099
sales (at) blackmagicwedge (dot) com