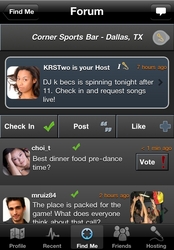 We wanted to bring a sense of local community to this space and decided to start with conversation...
Dallas, TX (PRWEB) February 24, 2011
locaii Inc. has announced that its free iPhone app is available and ready for download before its official launch at SXSW in early March. locaii is a social location app that allows users to start conversations focused on and around their favorite places. Social location is becoming a more prominent sector of the social media industry and has already seen multiple iterations on the core idea. locaii's offering endeavors to take the industry in a new direction with a deeper focus on people's favorite places and delivering interactive content within those experiences.
The idea of social location or location-based services is simple. A user has a phone with GPS that can pinpoint their location and a connection to the internet that allows for networking with other users. The industry began with a focus on friend tracking; allowing users to know their friend's real time whereabouts or receive notices when they came in close proximity. As privacy issues arose the industry turned to the check in – a user would "check in" (telling their app they were at a place) and then it would inform their friends. A multitude of companies built check in services or built the functionality into their existing social network. The check in allayed some privacy concerns but more interestingly switched the focus to places and away from tracking friends. The industry is now trying to figure out what to do after the check in and how to capitalize on this place focus.
Enter locaii – pronounced [loh-kai]. The social location network and iPhone app was released earlier than expected in the hopes of getting a jump start before their official release at SXSW in early March. The service allows users to post custom polls about their experiences, manage their network of places, and win awards as they use the service in their take on an achievement-based game called Identity. The company started with a focus on building a network of places for users and then delivering interactive content that would enrich their social experience.
The result is a forum-like conversation that users have with their friends and other users at the same place. Taylor Cavanah, locaii's President, explains how they got there, "We wanted to bring a sense of local community to this space and decided to start with conversation, specifically using polls and images as conversation starters, after extensive beta testing proved these to be the most engaging and fun for users." Since the company focuses more after the check in they keep check ins private or shared only with friends. Although the service is about posting public polls this does allow users more privacy if they only want to check in.
locaii, Inc. is based in Dallas, Texas and is currently self-funded. The app is available in the US and Canada with international plans in the works. The company is planning a large push at SXSW this year in the hopes of garnering more press, gaining strategic partnerships, and securing their next round of funding. When asked about funding Cavanah remarked, "We've got a twelve month runway and roadmap but would love to accelerate that with more people and capital."
You can learn more and get the app at http://www.locaii.com.
# # #