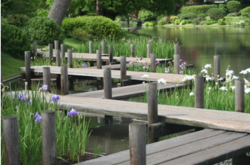 I hope my work brings beauty, joy and happiness to your life. It has to mine
Richmond, CA (Vocus/PRWEB) June 24, 2011
Point Richmond Art Collective is announcing its first showing of the new series "Personal Enlightenment and Triumph." The event will be happening on Saturday, June 25, 2011 from 4 p.m. to 7 p.m. at the Point Richmond Art Collective at deWitt Gallery and Framing. It will showcase Jennifer L. Thompson's work, the "Spiritual Zig Zag."
"I hope my work brings beauty, joy and happiness to your life. It has to mine" says Jennifer Thompson.
As one of the artists of Point Richmond Art Collective, Jennifer L. Thompson is proud to share her creative talent and her passion for creating beauty by having her masterpiece on this upcoming event.
Now a professional photographer, Jennifer was born in the Bay Area, and has spent most of her life living in Canada to the Gulf of Mexico. She describes one of her defining moments as living in Diamondhead, Mississippi, ground zero for Hurricane Katrina.
The personal impact of such tragedy has opened her life to many unique opportunities, driving her to find beauty anywhere she could. And with the new series "Personal Enlightenment and Triumph," she is able to express her creativity as her artistic shot of the "Spiritual Zig Zag" will be included there. Everyone attending this event can see her work and all other artistic creations with no fees required.
For more information about Point Richmond Art Collective and the upcoming event "Personal Enlightenment and Triumph," call (510) 374-4648 or visit their website at http://www.pointrichmondartcollective.org.
About Point Richmond Art Collective
The Point Richmond Art Collective is a group of local artists whose works cover a wide range of two and three-dimensional art. The Collective has its roots in deWitt Gallery and Framing, featuring Jim DeWitt's well known marine paintings and Pam's deWitt's high-end fine art framing. It is located in historic Point Richmond, a small community in West Contra Costa County attracting artists and craftsmen from around the San Francisco Bay Area.
###