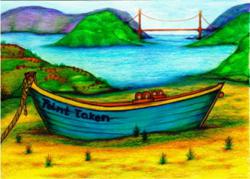 Point Richmond, CA (Vocus/PRWEB) July 19, 2011
Local artist and Point Richmond native, Linda Lee Calvan Drake will experience the thrill of her first gallery showing at the Point Richmond Art Collective at the DeWitt Gallery and Framing, located at 121 Park Place. The event will take place on Saturday, July 23 from 4 to 8 p.m. and will feature selected works from her inspired series "Vintage Views of Old Point Richmond Town."
"I illustrate colorful whimsical interpretations of Victorian residences on the hills of Point Richmond, treasured beaches, boats, secret places and vintage buildings," said Linda Lee Calvan Drake. "I call this series of images Vintage Views of Old Point Richmond Town. As a Point Richmond native, I have always appreciated the ability of Point Richmond to be an oasis in our reality. Each Victorian home brings interest to the present with surprising tales from the past. I have collected many of the vintage tales from family and friends in Point Richmond. Illustrating, painting and writing allow me to share this knowledge with some artistic license."
Drake embraced Point Richmond, the area in which she was raised, and used it as the source of her work, allowing her memories to become her inspiration.
"The Point was a very cool place to live in as a child," Drake continued. "I have memories of paddling my surfboard out to the end of the Keller's and Long Wharf piers. I still find joy in the relentless sound of fog horns, watching the tug boats, children playing on the beaches and the occasional resident kayaking along the shoreline. While I have witnessed the slow growth of commercialism and the ever growing population on the vacant hills of my youth, I will always enjoy the whimsical characteristics of Old Point Richmond Town."
For more information about Point Richmond Art Collective and the upcoming event "Vintage Views of Old Point Richmond Town" call the gallery at (510) 778-1480 or visit their website at http://www.pointrichmondartcollective.org.
About Point Richmond Art Collective
The Point Richmond Art Collective is a group of local artists whose works cover a wide range of two and three-dimensional art. The Collective has its roots in DeWitt Gallery and Framing, featuring Jim DeWitt's well known marine paintings and Pam's DeWitt's high-end fine art framing. It is located in historic Point Richmond, a small community in West Contra Costa County attracting artists and craftsmen from around the San Francisco Bay Area.
# # #