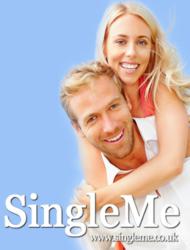 Far more single men and women in their thirties and forties are turning to singles dating to find a soul mate or relationship.
London, England (PRWEB) September 18, 2011
Singles looking for local dating, friendship and love are turning to SingleMe Singles Dating to discover their ideal partner and date online. The UK based dating agency recently conducted a survey of its members to assess attitudes to singles dating across different age groups.
Matchmaking, internet dating and online personals have been around for a while, yet have been an uncomfortable way of meeting dates and new friends for some people. The study by SingleMe suggests that attitudes to singles dating are changing far more rapidly than ever thought possible just a few short years ago.
In particular a spokesman for SingleMe noted that more and more unattached men and women in their thirties and forties are turning to singles dating and that they consider using a dating web site to be 'socially acceptable' and in some cases preferable to meeting people via conventional methods.
Citing an example from the study of unattached singles the spokesman revealed that in excess of 65% of single females and 78% of single men would consider using a mainstream or niche dating web site such as the matchmaking service offered by SingleMe.
The data in the survey was compiled over a 60 day period from a randomly selected group of single men and women using the SingleMe web site.
Of course young singles in their late teens and twenties have grown up with online personals and social networking, so it should come as no surprise that this age group is most at ease when looking for a online relationship. This age group tends to be the most computer literate and are at ease with online dating, chat and social networking.
SingleMe also noted in their study of dating habits, that single men and women from larger cities and metropolitan areas have more relaxed attitudes to using a personals service. London dating is a perfect example of the boom in regional interest in local singles dating services.
A spokesman from SingleMe added "We have spent a lot of time looking at the demographic background and quality of our members, not only are single men and women of all ages and backgrounds choosing to join us they continually offer feedback that helps us refine the matchmaking process, they come here looking to date and they do."
SingleMe also publishes regular dating articles, relationship tips and advice on attracting singles for its members via the singles dating portal.
About SingleMe Singles Dating
SingleMe is a leading dating and matchmaking service for singles and offers unattached men and women from all walks of life, ages and personality the opportunity to meet real local singles that live nearby or elsewhere across the country for a relaxed, fun and exciting dating experience.
Members of SingleMe can use the personals service to send emails, winks, upload photos and videos and flirt with other singles from the privacy of their own home. The dating service is compatible with all major smart phones and tablet devices such as Ipad and Iphone ensuring our single members can date on the go.
SingleMe publishes regular dating articles, tips and attraction techniques for its members and is a leading matchmaking site for local singles.
###