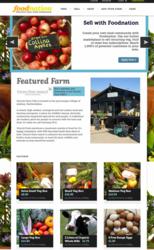 ...people started to vote with their feet on locally sourced produce.
London, UK (PRWEB) January 31, 2012
Today's shopper lacks time to go to the greengrocers, yet the produce available at the supermarket frustrates many. It's not just the surfeit of packaging. It's the air miles, same old varieties and lack of seasonality. Food-nation.co.uk, winners of the Ordnance Survey Geovation Award, challenge UK consumers to do something about it with the Foodnation mobile phone app which connects real food lovers to local food producers and farms.
Foodnation already enables users to browse from over 100,000+ organic farms, farm shops, community supported agriculture groups, vegbox schemes, family owned bakeries, cruelty free butchers, independent cheesemongers, fishmongers, smokehouses and much more, all at their fingertips. They can share its toothsome kale or beets to friends across popular social networks Facebook or Twitter.
Users can browse their local farm's tasty produce in the online marketplace. Using the secure e-commerce section, it's easy to buy a one-off gourmet box or register for weekly or fortnightly produce boxes. Simple to update box contents and, with an individual account, no need to re-enter user details each time. Foodnation also works well for Community Supported Agriculture (CSA) schemes. With several already on board, it's easy to find a local CSA and get involved through buying an ongoing subscriptions/share in its produce.
Founder and e-commerce specialist Louise Campbell said: "So many people gripe about the supermarkets yet continue to use them. Foodnation's choice of community supported agriculture groups offer delicious produce, which is not only seasonal but offers more choice in seasonal plant and animal varieties. Unfortunately, many still lack the technology to process payments and revert to cheques or cash. Who uses cheques these days?!"
"It would be fantastic if people started to vote with their feet on locally sourced produce. Supermarkets thrive because they are convenient. And Foodnation is all about making produce box schemes convenient for the consumer".
To learn more about Foodnation visit: http://shop.food-nation.co.uk/
About Foodnation
Foodnation is the brainchild of e-commerce specialist Louise Campbell. It was built by Computer Science student Rowan Wookey, in his final year at the OU. Louise has launched and run successful artisan e-commerce websites including myehive.com (arts and crafts) and craftnation.com (handmade designer goods).
A produce-box subscriber and volunteer with her local farm, Louise saw the opportunity to use mobile and e-commerce technology to make it easier for farmers and box scheme members to develop ongoing relationships. This is driven by a passionate interest in food security and of course, good tasting seasonal food!
About Geovation - http://www.geovation.org.uk
GeoVation is initiated, funded and managed by Ordnance Survey, though other organisations may fund specific challenges or activities. Through its GeoVation initiative, Ordnance Survey encourages open collaboration in addressing communities' needs where geography is a key enabler. GeoVation runs challenges to address specific needs within communities, which may be satisfied in part through the use of geography.
Contact:
Sally Hems
sally(at)oakleafcomms.co(dot)uk
tel. 020 7193-9283 / 07970 919 941
skype. sallyhems
###