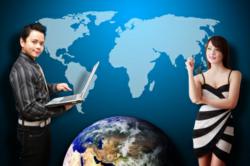 Even with all of the new technology and ways to reach consumers we have found many people are still in the dark about how to market to consumers online.
Baltimore, MD (PRWEB) July 05, 2012
Local Internet marketing consists of marketing products or services to select cities or towns on the Internet. The average person might be unaware how much marketing is performed each day by businesses and website owners around the country. For companies with an e-commerce enabled website, finding an audience to purchase products or services can be a challenge. One Internet marketing company is out to change the way that small businesses and individual website owners can reach more consumers online for little to no cost. The website, http://www.internetmarketingforbeginners.com, is providing an online resource to teach those getting started with Internet marketing or advanced marketers more tips and tricks that have been proven accurate by the team of experts that started this new website. The information that is provided online is free of charge and other premium training is available for more complex topics.
Some corporations spend millions of dollars strictly for online advertising each year. Retail companies that operate brick and mortar stores have felt the threat of e-commerce since its meteoric rise started in 1998. Leading universities frequently conduct Internet transaction studies and have found that over 90 percent of consumers now search the Internet in some form before spending money to buy products or services. Some businesses that dismissed the growth of e-commerce in the last decade are now out of business and new entrepreneurs could end up making the similar mistakes.
"We consult with business owners on a daily basis at Marketer's Black Book," said Brian Hanson, co-founder of InternetMarketingforBeginners.com and Marketer's Black Book. "Even with all of the new technology and ways to reach consumers we have found many people are still in the dark about how to market to consumers online," Hanson added.
There are three supreme search engines jockeying for a share of the consumer search market. These are Google, Bing and Yahoo with Yahoo and Bing often working together against rival Google. Search engines all have paid advertising programs that entice web users to click on targeted ads that lead them to a business or personal website selling or providing a product or service.
One of the local marketing tricks that can be learned at InternetMarketingforBeginners.com has to do with how to find click-through advertising for absolutely no cost. A website owner could save hundreds of dollars off of online advertising programs with the helpful information that is now being provided through this informative website. Any person that is interested in knowing additional information about local Internet marketing can click here and learn more about how it is used online.
About Internet Marketing for Beginners
The co-founders of Marketer's Black Book have launched InternetMarketingforBeginners.com to help beginners and advanced people get started earning money on the Internet. All of the tips and training offered for free on the website is based on the background and experiences of the owners. The June 2012 launch of this new website is helping to mark a successful year of consulting and public speaking about Internet marketing for the owners of Marketer's Black Book. With a full fall schedule and more things being launched soon, the team at Marketer's Black Book is continuing its mission of educating business owners one at a time.