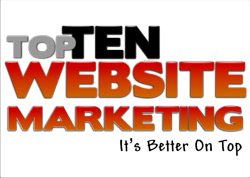 We show proven results
Hollywood, FL (PRWEB) October 18, 2012
Top Ten Website Marketing has always offered free consultations but they are currently offering free website analyses along with Websites that include 10 free page custom developed pages with the purchase of any of their SEO Packages. This Local Internet Marketing Company specializes in designing brand new websites for their clients and/or customizing their existing websites, making them more Search Engine Friendly, maintaining websites so that they remain Search Engine Friendly, (especially since in today's society, everything is constantly changing, improving, and advancing – Top Ten Website Marketing is always researching and always keeps up to date with the most popular, most current, and most effectively searched key phrases and Search Engine Optimization Methods, always providing the absolute optimum end results), and offers many other Internet Marketing and Search Engine Optimization services as well.
Some of the services they offer include but are not limited to: Custom SEO-Friendly Websites, Website Management, Search Engine Optimization, "Pay per Click" Management, Press Release Writing and Distribution, Blogging, and a multitude of other techniques that raise their clients' rankings in Search Engine Results and increase the number and the quality of targeted traffic to their websites, which in turn increases ROI (Return on Investment) and their customers' overall success.
Top Ten Website Marketing never requires contracts, always provides tangible monthly reports as documented proof of their clients' improvement, always ensuring full customer satisfaction at all times, and among specializing in Internet Marketing locally, nationally, and acquiring a new satellite office in New York, they are also currently focusing on Marketing for the Local Service Industry, targeting local areas specific to certain local businesses and companies. All of their strategies (they always use the proper techniques and never spam) combine to create excellent pathways to building quality links, target customers, and website traffic for this Internet Marketing Company's clients' businesses.
Again, Top Ten Website Marketing's main goal for their clients is to enable the achievement of their maximum exposure online, high quality target traffic to their websites, and to improve their business overall. With the vast variety of successful techniques they utilize, such as analyzing proprietary ranking strategies and monitoring Search Engine Algorithms, they always aim to provide their clients with only the best, most effective, most successful methods and services possible, always keeping their clients as their number one priorities and always keeping current.
Media Contact
Pete Pekofsky
Phone: 305-970-5699
Email: web (at) metroseo (dot) net
http://www.top-ten-website-marketing.com