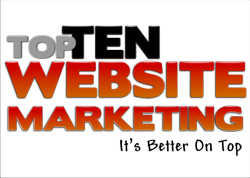 It's Better On Top!
FORT LAUDERDALE, FL (PRWEB) August 28, 2012
Due to today's ever-advancing technological society and the incredible increase in the use of Online Search Engines, Internet Marketing and Search Engine Optimization have become the most effective means of Communication and Advertisement for companies and businesses, rather than the older, more traditional offline marketing modes. In fact, since millions of online searches are performed daily, most companies consider Online Marketing more of an essential, rather than an optional method of practice in their overall functionality, progression, and success, and Top Ten Website Marketing provides both National Internet Marketing and Local Internet Marketing Services.
With well over millions of online searches conducted per day, this company combines a number of different methods to improve clients' websites in Search Engine results. The services Top Ten Website Marketing provide include but are not limited to: S.E.O. (Search Engine Optimization), PPC (Pay per Click) Management, Website Development and Maintenance, Online Press Releases, Articles, and Link Building. Their Search Engine Optimization services, which involve continually researching current and constantly changing data, analyzing popular (most frequently used and most effective) key words and key phrases, and developing specific webpages that include these specified key phrases, help to improve clients' websites' rankings.
Plain and simple: Top Ten Website Marketing's services lead only to the improvement of their clients' companies' success, and they even provide verifiable data, such as monthly reports and charts, explicitly explaining and proving the particular company's enhanced exposure, increased traffic, and improved success. As an authorized Power Listing Reseller, and with new packages such as their "Local Power-Listings Package" that includes 30 premium local listings, they provide maximum exposure for minimal costs. Offering One-on-One Personalized Consultations, always with their clients as their number one priorities, whether one does not currently have a website, (they can design and develop a new "Search Engine Friendly Website"), or already has one, (they can update and maintain it), Top Ten Website Marketing will use S.E.O. techniques to ensure the increase of quality traffic to clients' websites, especially for Local Internet Marketing for local businesses.
Media Contact:
Pete Pekofsky
Top Ten Website Marketing
Phone: 305-970-5699