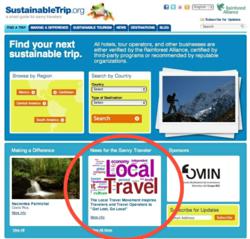 Rather than define 'local travel,' the Local Travel Movement simply advances Local Travel values.
(PRWEB) December 21, 2011
For the next few weeks, the Local Travel Movement is being singled out as 'News for the Savvy Traveler' (NFTST) by SustainableTrip.org, a Rainforest Alliance website that aims to "help savvy travelers and tour operators choose destinations that are not only beautiful, but also benefit the communities, flora, and fauna they will be visiting." Under the NFTST headline, readers are reminded that the 'Local Travel Movement Inspires Travelers and Travel Operators to 'Get Lost, Go Local'.'
Launched in April 2010, the Local Travel Movement now counts more than 110 local travel partners in about 50 countries and has become a rallying point through which, working together, Local Travel companies believe they can help give locals a real voice, engage travelers and develop a stronger ethical dialogue within the travel industry.
These Local Travel Movement partners – accommodation, tour operators, guides, guidebook publishers, blogs, travel portals and other development and voluntourism organizations – all believe that Local Travel connects independent and mindful travelers with local people in a manner that is a better deal for everyone. For travelers it's a chance to get under a place's skin (and let it under theirs), while also making the most of their travel time and saving money by spending locally. For host communities (and their tourism-industry stakeholders), it is vital for enforcing the beneficial qualities of tourism, maximizing a general awareness of the local culture and minimizing 'leakage' from the local economy.
Given the diversity of partner companies, the Local Travel Movement is not overly prescriptive. Rather than define 'local travel,' the Local Travel Movement simply advances Local Travel values, an approach to travel that is mindful of local people, the local environment, local culture and the local economy. It proposes four easy steps to becoming a local traveller:

connecting with local people before, during and after a trip
travelling in a manner that is sensitive to the local environment
respecting local heritage and culture
spending money locally.
While these actions may seem self-evident, the Local Travel Movement prioritizes this conscious and conscientious shift in attention to the direct connection between visitor and local host.
SustainableTrip.org recently joined the Local Travel Movement. In keeping with the Local Travel values, SustainableTrip.org provides travelers, tour operators and travel agencies interested in sustainable vacation options with a credible, comprehensive listing of businesses in Latin America and the Caribbean that have a demonstrated commitment to protecting natural resources and supporting local communities. The site is available in three languages – in English as SustainableTrip.org; in Spanish as ViajeSostenible.org; and in French as VoyageResponsable.org. The hotels, tour operators and other businesses it features have been certified by independent, third-party sustainable tourism certification programs, verified by the Rainforest Alliance or recommended as being sustainable by reputable organizations.
"We are pleased every time a new partner joins the Local Travel Movement," said Ethan Gelber, the Chief Communications Officer of the WHL Group, one of the instigators of the Local Travel Movement collaborative platform. "However, when a new partner takes the value of the movement to heart and shares word of it with that new partner's audience, it is all the more encouraging. Few would disagree that the tourism industry and travelers are being more self-conscious and conscientious when they travel. We believe that the Local Travel Movement and all its partners are thought-leaders in that beneficial shift."
###