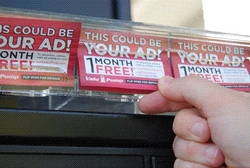 Our competitors are putting TV screens on gas pumps in major metropolitan markets because they know the value of reaching a captive audience. They're having tremendous success selling commercials to national advertisers, but they completely ignore small businesses - the backbone of our economy
Richmond, VA (PRWEB) September 23, 2009
Local businesses are taking a chance on a new advertising concept officially launched today by Richmond-based company, ValuPump. The company aims to create the first "take-one" gas-pump advertising network in the United States. "Our competitors are putting TV screens on gas pumps in major metropolitan markets because they know the value of reaching a captive audience. They're having tremendous success selling commercials to national advertisers, but they completely ignore small businesses - the backbone of our economy," says ValuPump CEO, Michael Mason. ValuPump has chosen Richmond as a test market for its unique "take-one" coupon dispenser, but plans to expand the concept throughout the country in the near future.
Patrick DiServio is President of Tony DiServio Insurance Inc., an agency started by his father in 1990. "I decided to give ValuPump a try because I've seen a major decline in the number of calls I'm getting from my yellow page ads," says Mr. Diservio. ValuPump signs leases with local gas-station operators that allow the company to install its "take-one" coupon dispenser at each fueling position. The company estimates that 10,000 people pump gas at the average gas station each month. Local advertisers are betting that putting their message in front of this large pool of local customers for 3-5 minutes will increase their sales.
"In our initial testing of this concept, we saw a phenomenal response rate because people could take the ad with them if they were interested in the offer. I believe more local business owners are going to abandon other, more-expensive advertising when they see how well this works," says Mason. The company will install the first dispensers on gas pumps in the West End of Richmond on January 1st, 2010. For more information, visit http://www.ValuPump.com or call 1.877.ValuPump (1.877.825.8786).
###