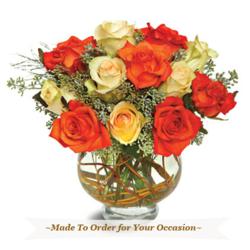 ...the order gatherers commission coupled with wire service fees is hurting local florists as well as the local economy.
Indialantic, FL (PRWEB) November 29, 2011
Online floral arrangement company EZBloomers.com has launched a 'Support Local Florists' campaign driven by Facebook to shed light on the growing problem of large order gatherers monopolizing the way consumers send flowers. Order gatherers purposely divert orders from local florists keeping a twenty percent commission and increasing the amount customers pay; they tack on a $15 service fee to each order.
Up until now, florists have been sending and receiving orders through wire services such as FTD and Teleflora. It was a relationship that has historically worked well. Recently, because of the costs associated with the use of typical wire services and the commission structure, all but a few florists are finding themselves on the losing end. And unfortunately, that sometimes trickles down to the customer.
EZBlomers.com, a new custom flower delivery website, has started to change the old way we have previously been able to send flowers, and many local florists across the country are incredibly grateful.
"We believe our way of sending flowers will keep local florists from closing their doors during these rough economic times," said Kimba Vasquez, Chief Executive Officer of EZBloomers LLC. "We understand that the order gatherers commission coupled with wire service fees is hurting local florists as well as the local economy. Our 'Direct Send' feature enables the sending of orders between local area florists where the recipient lives as an alternative to order gatherers and wire services cutting out the large fees and commissions."
Local florists can receive orders without having to pay wire service fees or wait to get paid. There are no commissions or service fees and because the money goes where it should, the customer always receives the best value for their money and the highest level of service possible. The company's unique business model differentiates itself from all other flower sites, which is why they're setting out to make massive changes in the industry.
Facebook and Twitter have accelerated EZBloomer.com's message on how the site saves florists as well as consumers money when purchasing flower arrangements online.
To become a fan of EZBloomers.com's Facebook page and learn more about their current contest and promotions, and communicate with other fans, please "like" them today at http://www.facebook.com/ezbloomers and/or follow them on Twitter at http://twitter.com/ezbloomers.
About EZBloomers.com: One of the leading online resources working to link top local florists with consumers, EZBloomers.com (http://www.ezbloomers.com/) offers custom floral arrangements without the high-priced service fees that have monopolized the online floral industry. No service fees allow the total amount to go towards what their customers order, allowing for a better quality product and ultimately the best value.
###