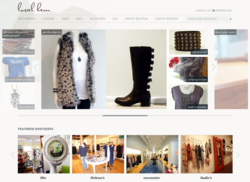 "Each online boutique is handpicked for Local Hem...resulting in a carefully curated selection of the best local boutiques."
Cambridge, MA (PRWEB) October 19, 2011
Today, Local Hem announced the official launch of its online boutique shopping platform. LocalHem.com allows visitors from anywhere in the world to shop a selection of the best independent, local women's boutiques online. Visitors to the site can discover and shop boutiques by location, category, designer or specific trends offered. Unlike their brick-and-mortar counterparts, the online boutiques on Local Hem are open for business 24-hours a day, 365 days a year.
Shoppers on Local Hem can also take advantage of the many perks offered by the boutiques such as complimentary gift-wrapping and one-to-one sizing and styling advice (by email or phone) from the boutiques' owners. Local Hem also offers a streamlined all-in-one checkout process, no matter how many boutiques you are buying from. Additionally, every Local Hem online boutique offers international shipping.
For boutique owners, Local Hem offers an easy way to setup and maintain their boutique's shop online and gain exposure to a worldwide audience. Local Hem builds each boutique's online e-commerce storefront to reflect the shop's unique brand and story. Boutiques can then list as many items as they wish, there are no listing fees. Every online boutique is given a unique address that they can direct their current customers to, allowing them to retain the business of faraway shoppers as well as to encourage local customers to come by the physical storefront more often to check out the updated merchandise.
The site, founded by Colleen King, a June 2011 graduate of MIT's Sloan School of Management MBA program, currently hosts a selection of boutiques in the Boston and New York areas. Sadie's Boutique in Arlington, MA, Helena's Boutique also in Arlington, MA and Encounter Boutique in Saratoga Springs, NY are among the first boutiques to join Local Hem. The site also offers a diverse selection of hard-to-find boutique designers and styles, something that sets it apart from large, chain retailers. Some of the more popular designers on the site are Prairie Underground, Alice + Olivia, Poetic Licence, Elizabeth and James, Irregular Choice and Art of Henri.
King noted that the company will be expanding both the number of boutiques and categories offered in the coming weeks. She added that they are in no rush, however, to include "just any boutique out there," noting that each online boutique is "handpicked for Local Hem based on its commitment to offering unique, high-quality merchandise and personal customer service, resulting in a carefully curated selection of the best local boutiques."
###