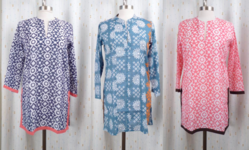 Like the stories of the boutiques that sell these pieces, the origins of each brand are unique and certainly worth taking a moment to consider before your next boutique shopping excursion.
Cambridge, MA (PRWEB) March 14, 2012
As boutiques across the country move out the last of their winter sale items and usher in racks of spring and summer-ready apparel, many previously unheard of independent designers are having their moment in the retail spotlight. Local Hem, the online boutique shopping platform, has introduced several new, hard-to-find designers to their collections this month, each with their own interesting story:
Roberta Roller Rabbit, the latest addition offered by She Boutique in Marblehead, MA, features colorful, block printed clothing, accessories and home décor. The line was named after a fable found on a discarded piece of fabric in India. The fable starred "Roberta Rabbit" and the designer, Roberta Freymann, took her Indian inspiration a step further. She founded her line on the kurta, a traditional Indian tunic that is frequently used as beach and resort wear. Made of 100% cotton voile, the kurta is the foundation of the line and continues to be the most sought after piece in the entire collection. The patterns are applied to fabric by use of handmade irons or woodblocks and raw mixed paint, and then dried in the sun. Made by hand, each piece contains its own unique characteristics arising from printing differences. Local Hem is excited to offer Roberta Roller Rabbit kurta tunics and beach bags in a variety of their signature prints in their online boutiques.
With its roots firmly planted in the fashion-forward knits and cashmere sweaters, the brand Qi, available at Duchess Boutique in Newton, MA, has quickly expanded to an extensive line of comfortable yet chic separates. Better yet, Qi emphasizes giving back to the community and maintains a strict focus on corporate social responsibility: "Our use of cashmere promotes environmental health by using a renewable resource that ensures profitability for farmers, in an efficient and eco-friendly way. While reducing our carbon hoofprint, we also lend our support to non-profit organizations, such as the Advocates For the Children of New York and the National Wildlife Federation, in their efforts to create a better world."
The final addition, Bensimon, sold by Sadie's Boutique in Arlington, MA, originated as a family business that imported second-hand American clothing to France during WWII, eventually evolving to create their first collection inspired by military and travel. Since this "glamorous and functional" collection debuted in 1984, Bensimon, has become a staple in many women's wardrobe. Their most popular item, their tennis sneakers, are available in approximately 100 colors and are often spotted on celebrities. The two most classic Bensimon sneakers, the "Tennis Mid" and the "Tennis Lacet" are both available in various colors in Sadie's online boutique on Local Hem.
These three brands are just a few examples of the eclectic mix of independent designers that Local Hem has welcomed to their online boutiques over the past few weeks across all categories, from dresses to shoes to jewelry. Like the stories of the boutiques that sell these pieces, the origins of each brand are unique and certainly worth taking a moment to consider before your next boutique shopping excursion.
ABOUT LOCAL HEM
Local Hem is an online boutique shopping platform allowing visitors from anywhere in the world to shop a selection of the best independent, local boutiques online. Visitors to the site can discover and shop boutiques by location, category, designer or specific trends. Each online boutique is handpicked for Local Hem based on its commitment to offering unique, high-quality merchandise and customer service, resulting in a carefully curated selection of the best local boutiques.