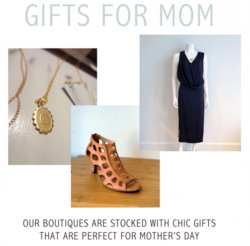 Local Hem, the boutique shopping platform, has announced the arrival of several new product lines, just in time for Mother's Day.
Cambridge, MA (PRWEB) May 11, 2012
Remember when preparing for Mother's Day meant spray painting the finest macaroni, stringing it onto some yarn and calling it a day? Chances are, that dried-pasta-turned-jewelry trick won't fly with mom any longer. With this in mind, the online boutiques of Local Hem, the boutique shopping platform, have announced the arrival of several new product lines, just in time for Mother's Day.
Focusing on accessories, the most popular category for gift-giving, Encounter Boutique is introducing the latest eyewear collection by Elizabeth and James in all colors, sizes and shapes: round, cat eye, square, aviator and more. Colleen King, Local Hem's CEO and founder, urged, "Upgrade mom's drugstore sunglasses to something that makes her commute feel a little more glam."
King also noted, "Scarves are another go-to present for the mom who has given you everything. If she is new to the scarf trend, be sure to pass along a few tutorials on the most flattering ways to wear a scarf." Duchess Boutique and She Boutique, both available on Local Hem, are now carrying scarves from EMU Austrailia, Free People and Roberta Roller Rabbit.
Finally, King remarked, "If all else fails, there aren't many mothers who wouldn't appreciate a thoughtful piece of jewelry, and that's just the bill that the Frolick Alice Initial Necklace from Sadie's Boutique fits. At only $52, this piece will become mom's new "everyday" necklace. It's simple and special."
The online boutiques of Local Hem, and their offline counterparts, are filled with all of these hard-to-find collections and more. King urged "'Shop small' at your local boutiques this Mother's Day weekend to find something as thoughtful and one-of-a-kind as the woman you're shopping for."
ABOUT LOCAL HEM
Local Hem is an online boutique shopping platform allowing visitors from anywhere in the world to shop a selection of the best independent, local boutiques online. Visitors to the site can discover and shop boutiques by location, category, designer or specific trends. Each online boutique is handpicked for Local Hem based on its commitment to offering unique, high-quality merchandise and customer service, resulting in a carefully curated selection of the best local boutiques.