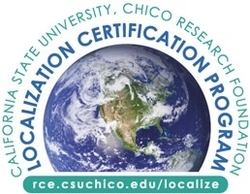 Chico, CA, USA (PRWEB) February 6, 2011
In partnership with The Localization Institute, California State University, Chico's Center for Regional and Continuing Education announces that enrollment is now open for the Localization Certification Program and Localization Project Management Certification.
Established in 2006, the Localization Certification Program was developed by industry experts, representing the leading professional associations, publishers, and academic institutions in response to the growing demand from localization professionals. More than 400 participants from 35 countries have now received certification through the program.
The certification programs include a blend of self-paced, online learning modules culminating with an intensive hands-on workshop and certification exam. Participants can now enroll, start the online learning modules, and make plans to attend the hands-on workshop in San Francisco starting June 20.
2011 San Francisco workshop and exam schedule:

Localization Certification Program, June 20-22
Localization Project Management Certification, June 23-24
Translators, international product marketing managers, Web managers, overseas business development executives, Web developers and designers, global entrepreneurs, localization professionals, international trade and government foreign relations representatives, educators and students in the field are encouraged to take advantage of these certification programs.
The workshops will feature a complete schedule of recognized localization experts who will demonstrate successful implementations and the latest applications.
Individuals who successfully complete the Localization Certification Program will be eligible for American Translators Association (ATA) continuing education credits.
To enroll please visit http://rce.csuchico.edu/localize or call the California State University, Chico Center for Regional and Continuing Education +1-530-898-6105.
About The Localization Institute
The Localization Institute offers quality training for software localization and internationalization. Founded in the fall of 1996, the Institute offers public events and private consulting engagements that help companies reduce the cost and time required to deliver localized products and services. Localization Institute facilitators have years of direct personal involvement in the specializations they represent, have a passion for sharing their expertise, and are skilled at doing so.
http://www.localizationinstitute.com
About California State University, Chico Continuing Education
Founded in 1887, California State University, Chico is one of the oldest institutions of higher education in California. Ranked as one of the top public universities in the west, CSU, Chico has built a tradition of excellence in teaching, scholarship, research, and public service. To extend the mission of the University, CSU, Chico Continuing Education delivers educational programming and services to more than 10,000 students and professionals annually.
http://rce.csuchico.edu
###