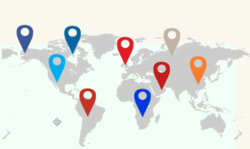 It's not just about your online presence, it's about establishing your brand name as an authority.
San Francisco, California (PRWEB) October 16, 2012
Local SEO services have always been in demand, and to cater to the US, UK and European clients, GTS Link Building - http://www.gtslinkbuilding.com/local-seo-services has rolled out best-in-class local search engine marketing services at attractive prices.
Local SEO can make or break small businesses and professionals like doctors, architects, lawyers, chartered accountants etc… Optimizing a website for local search is far different from getting a website to rank high in Google SERP for regular web search. And, with over a decade of experience in local SEO services, GTSLinkBuilding.com has launched specialized local search engine marketing services at competitive prices.
The company takes care of just about everything right from defining a local SEO strategy, optimizing a website for local search, churning out quality content for enhancing the localization awareness in the search engines, down to building superior back-links to outsmart the competitors.
What's more, their local search engine marketing services also assists in social media marketing and the branding process as well. GTS has been helping businesses of all kinds and sizes since 2002, and their local SEO services are a value-addition to their existing portfolio of SEO services, which include SEO consultation, White Label Resellers, persona link building (link building by established, cyber-authors within a websites niche), and video optimization services.
Moreover, the company has been serving the UK customers in a wide variety of niches, which has helped their team in gaining tremendous experience, and an edge over the rivals. Company's proficient team of SEO professionals has achieved fantastic outcome in local search results over past decade, which is why, they've rolled out specialised services to the UK and European customers.
Local SEO can not only help professionals and small business owners in promoting their services, but even the large corporate giants in establishing monopoly in a particular geographic location. And, that's precisely the reason why the demand for such specialised services has been increasing day-by-day.
With the advent of Google' latest moves viz Panda and Penguin updates it has become even more crucial to generate some high quality back-links from authoritative websites in that particular niche to be able to rank high in SERP. And, the local SEO services can greatly aid in generating tons of quality back-links, which can even help in ranking high on Google Maps and Google Places rankings.