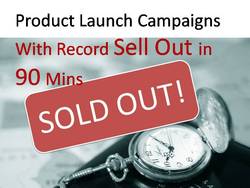 ThinkAccelerator has helped us launch successful campaigns online that helps our restaurant business and generated more loyal customers and fans. - Bernie Utchenik, Managing Director, Botak Jones
(PRWEB) December 31, 2009
Whilst many companies suffered in the downturn of 2009 and closed, there were a handful that took the path less beaten and decided it was time to leverage online marketing channels to build their visibility and lead base.
One such company was Botak Jones, a restaurant chain of 10 outlets in Singapore that managed to build up a healthy customer database of nearly 28,000 in 8 months. With the help of ThinkAccelerator Marketing, they managed to nurture the relationship with their customer online and eventually monetize that relationship with successful product launches regularly. One such product launch occured in the middle of the year for a high end product and was purely driven through online marketing channels. It sold out in 90 minutes instead of the anticipated 3 days.
With the success of a case like Botak Jones leveraging email marketing in Singapore, the next step involved using social media like Facebook and Twitter. The Facebook campaign netted 5000 active participants and customers within 3 months and has become a great feedback channel for the customers and for the company to test product campaigns.
Local Search Marketing witih Videos has also been increasingly effective online. At ThinkAccelerator, it's been used well in varied businesses like surgeons and business consultancies. With Google launching Google Local Street View in Singapore in Oct 2009 and search results including more Google Local maps, it's a great opportunity for companies to leverage onto the Local Online Marketing strategies as localized business listings appear on top next to the Google Local map.
ThinkAccelerator has been able to augment traditional marketing with online marketing channels and tools that has seen its clients experience accelerated marketing tests results and unprecedented traffic in a short time.
###